Cheap Holidays to PortAventura
Costa Dorada, holidays, unlimited fun, good weather and Mediterranean gastronomy. We're talking, of course, about a trip to PortAventura. A wide variety of attractions for all publics and interests are waiting for you here. You won't get through it all in one day, so we recommend that you stay overnight for at least one night. The hotels in PortAventura are four and five star, and there are also others nearby. Travel information for PortAventura Themed areas in PortAventura
PortAventura is a fascinating world full of fun attractions. It has six themed areas that have been carefully designed down to the smallest detail, which is why it is one of the most emblematic and prestigious amusement parks in Europe. Let's discover each one of them, so you can get an idea of what you'll find after booking your PortAventura Holiday. All of them have themed restaurants, shops and unique shows.
Mediterrània. What will you find here? To eat, it's obvious: paella, tapas, wine and delicious desserts. As you know, they say that Mediterranean cuisine is the best in the world, so don't miss Vinosfera tapes ivins, Racó de Mar or Café Saula. There are also food stands, souvenir shops and shows with live music, parades, fireworks and much more excitement.
Polynesia. We travel to the exotic country to complete the attractions with tropical restaurants such as Bora Bora and other food stands where you can enjoy a quick bite continue your day at PortAventura. There is also a clothes shop (Superdry) and a photo shop to immortalise your visit at the Tutuki Splash. This themed area has several shows: birds of paradise, sarongs in Bora Bora, Aloha Tahiti and Rec Experience.
China. The colonial China era has some of the park's most iconic attractions, such as Dragon Khan. And there are also all kinds of services such as restaurants where you can enjoy oriental cuisine ( including spring rolls, of course!). This is the case of the Marco Polo buffet, the Sichuan or the Canton, a wok with show-cooking. The Dagana restaurant offers hamburgers and hot dogs, and there are also grocery shops for a quick bite. There are also plenty of shops: driving school for children, exotic souvenir shops... Don't miss the impressive acrobatic musical show at the Imperial Grand Theatre of China.
Mexico. In the beautiful Mexico we will enjoy the rhythm of the mariachis. We'll be able to take a break from the rides and taste its delicious gastronomy: nachos, tacos, quesadillas... You can taste them at Hacienda El Charro and La Cantina. There is also a shop selling food, sweets, handicrafts and photographs of the attractions. The most impressive show is Mexican Rituals, but families should not miss The Adventures of Tadeo Jones and Meet & Greet Shrek.
Sesamoaventura. The area especially designed for children and set with the characters of Bert and Ernie and others from Sesame Street. La Cocina de Epi (Ernie's Kitchen) will please the little ones with its pizzas, chicken, hamburgers and pasta; there is also a grocery shop, a shop selling objects for children and even a photography studio: Abby Star Studio.
Far West. Here you will feel like a real Wild West cowboy. Its attractions are complemented by American home-made food at The Iron Horse, steaks at The Old Steak House, pasta and pizzas at Jeremias' Food, and shops selling stuffed animals, clothing (Desigual), and photography of the most popular attractions in the area.
The best attractions at PortAventura
The six worlds waiting for you after booking your PortAventura Tickets + Hotel holiday have a wide variety of attractions: for the more daring and intrepid, for those who prefer to enjoy life at a more relaxed pace, and for the youngest members of the family. Take a look at the best attractions, by area.
Mediterrània. Just an hour's drive from Barcelona, it is impossible to miss this very local world in PortAventura. Adrenaline lovers will find an ideal attraction here: the Furius Baco, an impressive vertical catapult that will propel you from calm to 135 km/hour in just three seconds. To get your heart rate down, you can take a ride at Port de la Drassana, on a boat trip that will take you back to ancient China, or travel to the Far West with the locomotive at the Estació del Nord.
Polynesia. We reach an area with exotic attractions such as the classic and refreshing Tutuki Splash, the Kontiki catamaran that swings until it is completely perpendicular to the ground, or Canoes, a quieter attraction designed for the little ones to explore their adventurous spirit in tropical waters.
China. The formidable Chinese empire brings some of the most intrepid attractions in all of PortAventura. Among them, the symbol of the park: Dragon Khan, a world reference in roller coasters, with 8 loops and travelling at more than 110 km/h; as soon as you see it, you will be hooked. In this area you will also find Shambhala, the highest roller coaster with the longest drop in PortAventura, considered a 'hypercoaster' and with five camelbacks. There are also other quieter options: Waitan Port, a pleasant boat ride; Tea Cups, with spinning cups; Children's Area, with slides, swings and walkways; Angkor, a boat ride with water pistols; and the Imperial Cobra, so that the kids can also feel the adrenaline of speed.
Mexico. 'Ándale', there's everything here! A wide variety of attractions are waiting for you: Los Potrillos, Mexican horses for kids; Serpienteemplumada, a rotating serpent with ups and downs; the spectacular Hurakan Condor, with 100 metres of free fall; El Diablo - Tren de la Mina, speed in a wooden carriage; El Secreto de los Mayas, a 175 square metre labyrinth; Armadillos, a ride for children; and Yucatán, a serpent with a dragon's head and twists and turns that will take your breath away.
Sesamoaventura. There are many attractions awaiting you in this children's world: Tami Tami, a roller coaster for children; Elmo's farm, a fun ride with animals; Coco Piloto, a fun plane; Mariposas Saltarinas, to pedal with force; Magic Fish, colourful fish that skid in the water; El HuertoEncantado, children's games and slides; Waikiki, baskets to make you feel like you're flying; Kiddie Dragons, which spins around; El Salto de Blas, a Hurakan Condor for children; El Árbol Mágico, with friendly Sesame Street characters; Sesamoaventura Station, a locomotive for an unforgettable journey; Street Mission, for children with the soul of a detective.
Far West. Don't miss the Buffalo Rodeo; Penitence Station, with a great tour of the park; the thrilling Tomahawk; the Blacksmith Maze, for mystery lovers; the Grand Canyon Rapids, great fun; the Carousel, a merry-go-round for children and adults; Wild Buffalos, bumper cars; the classic Stampida, a wooden roller coaster; Volpaiute, a spinning attraction; Crazy Barrels, spinning barrels; or Silver River Flume, a trunk with refreshing drops.
Where can I sleep with a PortAventura hotel + ticket package
If you are looking for an all inclusive hotel in PortAventura, you can choose between staying inside the theme park itself or in a nearby town, such as Salou, Tarragona or Reus. Here are the advantages of each of them.
Hotels in PortAventura
They are ideal for those who do not want to leave the park and so make the most of the opening hours without having to get up early. All of them are four and five stars, with great comfort, and are themed, which is especially fun for children. There is also a Caravaning car park, for those who prefer to travel at their own pace and take their "house" with them. All of them have PortAventura Tickets + Hotel deals, the best way to get amazing discounts.
Hotels in Salou
This is where PortAventura is located, so if you are staying in this town you can easily walk to the park. The train station is 3 kilometres away, so it would take you 30-40 minutes walking from Salou. You can also take the bus (there are several lines that connect the city with the resort) or drive (there is a paid car park at PortAventura). The good thing about Salou is that you will have more choice for accommodation, with cheaper options to suit all budgets.
Hotels in Tarragona
It is a good alternative to go to the capital if you want to do some sightseeing when the attractions have closed and have dinner in a different atmosphere. This city is known for its UNESCO-recognised Roman heritage, so you'll have plenty of places to visit. There is also a wide variety of hotels, so you will find a hotel near PortAventura to suit all budgets. From here you will be about 15 minutes by car from the park (about 12 kilometres, depending on where your hotel is).
Hotels in Reus
In this city you will find a hotel close to PortAventura and at the same time cheaper than in the previous areas. It is also about 15 minutes away by car (10 kilometres), so it is still a convenient place to stay near the park.
Value for money hotels near PortAventura
If you are looking for a PortAventura Hotel at a good price without losing the best quality and comfort, there are different options for you. Do you prefer to sleep inside the park or outside, so you can enjoy the night in a different place? Whatever your choice, check out these PortAventura tickets and hotel offers that you can enjoy near the theme park.
In Salou
Outside Salou
Advantages of booking an all inclusive Hotel + Ticket package
You know you won't have time to see all of PortAventura in one day, nor to try all of its attractions. That's why staying in a hotel is the best option. If you think that is better booking things separately, the truth is that buying a package with hotel plus PortAventura tickets has many advantages. Which ones?
The price. It is cheaper to buy a "PortAventura Tiket +Hotel" package than if you bought it separately. There are special discounts, some of which extend to other park services, such as access to PortAventura Park, Ferrari Land and Caribe Aquatic Park. All in one.
It's quicker and easier. Buying the ticket on one side, looking for the hotel where you will be staying on the other, calling or booking both separately... Don't you think it's a bit of a hassle when you can do it all at once? With an all inclusive package, you''ll have PortAventura hotel and tickets in one click or phone call, it's as easy as that!
An experienced and reliable provider. When you book a package of PortAventura tickets and hotel, you will have the same tourist service provider, which means that, in the event of any problem, you will solve it all at once and you won't have to manage it separately.
You save queuing. Of course, once you have your tickets to PortAventura, you won't have to wait at the ticket office!
Hotels near PortAventura
An essential part of your PortAventura Holiday package is where you will stay. You can stay inside the theme park itself, in the resort, within walking distance of the fun and where all the top-quality hotels (four and five stars); another option is to stay in Salou or in another town in the surrounding area. These are our suggestions to ensure you have a perfect stay.
Hotels inside PortAventura
The best thing about sleeping inside the resort is that you can take advantage of PortAventuraall inclusive holiday: Ticket + Hotel. You will also enjoy free and unlimited access to PortAventura Park; discount on tickets to Caribe Aquatic Park; discounts on Express passes; one day's access included per person per stay to Ferrari Land.
Also free parking at the hotel; priority reservations at restaurants; Pick-Up service at the park shops, your shopping directly delivered to the hotel; free wifi connection; PortAventura Pass, which you pay for at the park with your room key; online check-in at the time of your choice; access to your room from 3pm; luggage can be left in the left-luggage office free of charge. These are the hotels we recommend in PortAventura:
PortAventura Hotel Colorado Creek (4 stars). Stay in the Far West at this elegant hotel, full of wood, with a bar, air-conditioned rooms, entertainment staff... everything you need for your perfect PortAventura holiday!
PortAventura Hotel Gold River (4 stars). If you like swimming, here you will find three river-style pools and entertainment programmes are organised, both day and night. The theme is inspired by the American Gold Rush era. It has direct access to the Far West area.
PortAventura Hotel Caribe (4 stars). Here you will find a tropical oasis and a lot of peace and relaxation, with the largest white sandy swimming pools in Europe. It has Caribbean buildings surrounded by exotic gardens in the heart of the Costa Dorada.
El Paso Hotel (4 stars). Set in a hacienda in colonial Mexico, you can enjoy a hotel plus all-inclusive PortAventura tickets inside the park.
Hotel Roulette PortAventura. This is for people who can't decide which hotel to book: you are randomly assigned a room. However, with all the advantages of a holiday package atPortAventura.
Hotels outside PortAventura
These hotels are located outside the resort, but less than 2 kilometres away.
Regina Gran Hotel (4 stars). Located just 10 minutes' walk from Salou beach, it has an outdoor swimming pool and solarium, spa, Turkish bath, cardio-fitness area, mini-golf course, paddle tennis court and multi-sports court, all just 10 minutes' drive from PortAventura!
H10 Delfin Park (4 stars). It is in the centre of Salou and is for adults only. It offers two swimming pools and outdoor jacuzzi, rooftop plunge pool with sea views, garden area, gym, billiards and amusement machines and entertainment programmes.
Las Vegas (4 star). Also in Salou, but only one kilometre from PortAventura, so you can even walk to the park. It has large terraces, an outdoor pool and pool bar, plus a fitness centre. All rooms have private terraces.
H10 Vintage Salou. A hotel 600 metres from the beach, with an outdoor swimming pool, an adults-only terrace with a small pool and elegant rooms. In the evenings you can enjoy live music. It is only 1.5 kilometres from PortAventura.
Benefits of PortAventura hotels
Staying at one of these PortAventura hotels means you'll be fully immersed in the experience, as you'll be able to enjoy luxurious benefits.
Firstly, we would like to mention the unlimited use Express Pass for Portaventura and Ferrari Land for the duration of your stay. With it you will be able to access the main attractions and save time in queues to enjoy the park to the fullest.
Take advantage of special discounts, both for PortAventura Caribe Aquatic Park tickets and Express products.
The hotels also offer you the pick-up service, one of the most characteristic of the park. Forget about carrying your purchases all day long, everything you buy in the park will be sent directly to your hotel. This way you won't have to worry for a moment about your bags - the greatest convenience you can imagine!
Let's name the little ones, they will also benefit from the advantages of the Port Aventura hotels, as they will receive gifts so they will never forget the experience.
Staying at these Portaventura hotels will definitely make you feel part of the theme, as they have all the luxury of details. So much so that you will enjoy the typical and most characteristic meals of each area. You will have at your disposal a wide variety of food and products that will transport you to the place where you are staying. Remember to get the energy you need to face a great day at PortAventura tasting the buffet breakfasts offered by each hotel.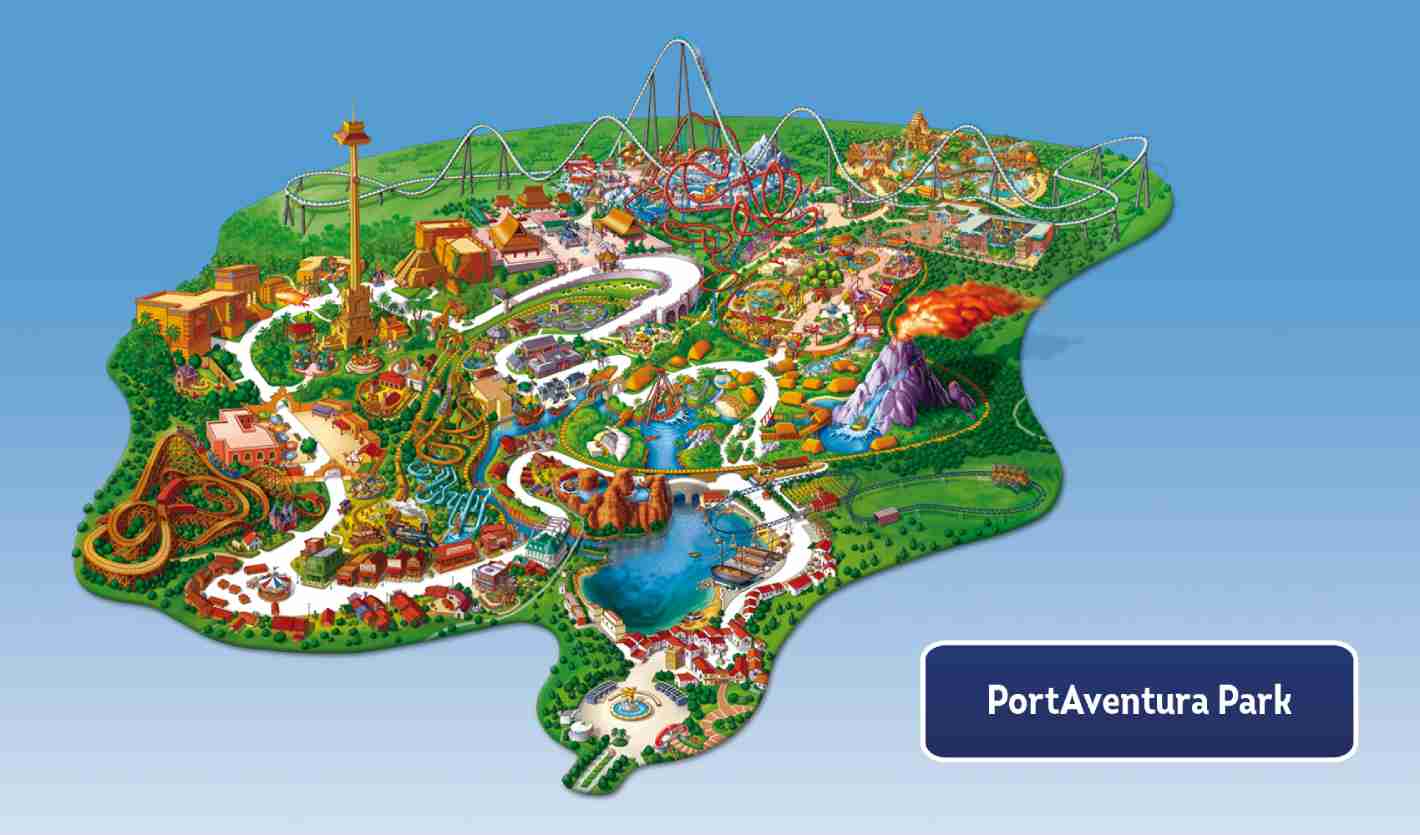 Map of Portaventura
In the PortAventura theme park, you will discover a world of almost unlimited and varied adventures, with attractions, shows, restaurants, shops, hotels... all themed to make it easier for visitors to experience it all!
There are up to six different worlds on the PortAventura map: Mediterrània, famous for its tranquillity and good food; Polynesia, with lots of vegetation; China, dominated by the spectacular Dragon Khan and Shambhala; Mexico, with its amazing Mayan Pyramid; SésamoAventura, ideal for children; and Far West, for lovers of the Wild West.
You are in good hands
34 years of experience, more than 100 destinations and more than 1 million customers.
Save when you book your Package
More for less. Take advantage of the many benefits of booking your package.
Pay in easy instalments
Book your trip in advance without spending too much.
You will love your holiday
Our customers are our best guarantee and our best ambassadors.
Are tickets to the park included if I stay at a PortAventura hotel?
All PortAventura hotels give you unlimited access to the park during your stay, including the day of arrival and departure. Enjoy the freedom to enter the park as many times as you like each day of your booking and make the most of the unrestricted fun!
---
How many days are recommended to visit PortAventura?
A minimum of two days is recommended to visit the entire park, although this may vary depending on the number of people in the park.
---
How can rain affect my trip to PortAventura?
Rain in PortAventura is not considered a meteorological factor that may affect the activity of the park, as long as the conditions do not pose a danger to visitors. The atmospheric situations that could interrupt the normal course of the park are: strong winds, thunderstorms or very heavy rain. We therefore recommend that you check the weather and PortAventura forecast before starting or booking your trip.
---
Where do I have to pick up my PortAventura tickets if I am staying at a hotel in the park?
To obtain the tickets corresponding to the days of your stay, simply go to the hotel where you have made your booking and pick them up there. The accommodation staff will give them to you at that time. Enjoy the advantages of getting your PortAventura tickets directly at the place where you are staying!
---
Which are the closest hotels to PortAventura?
If you want to sleep as close as possible to Port Aventura, why not stay in the complex itself? There you will find variety and quality: Hotel Mansión de Lucy, Hotel Colorado Creek, Hotel Gold River, Hotel Caribe, Hotel El Paso and Hotel Roulette. There is also a dedicated Caravaning parking area. Other nearby options are in Salou: Las Vegas, 1km away, or H10 Vintage Salou, 1.5km away.
---
How can I cancel my PortAventura booking?
It's really easy. Your hotel + PortAventura ticket package is fully flexible: you can change or cancel your booking up to two days before your trip. For the Roulette deal, changes can be made up to two days before, but not cancellations. Therefore, you can buy your promotion now to have a great time with the total security that, in case of complications, you will be able to cancel it.
---
How does it cost a package of Hotel + Ticket to PortAventura?
There are various promotions and deals to enjoy a combination of hotel and PortAventura tickets. From one night in a hotel with admission to PortAventura and Ferrari Land for 65 euros, to discounts up to 75% on the third night staying at Colorado Creek (with access to PortAventura Park, Ferrari Land and Aquatic Park). Check all the promotions available now.
---
What are the best value for money hotels near PortAventura?
If you want to save money on your PortAventura ticket plus hotel package, you can book accommodation in a nearby town: in Salou, the Hotel BestCap and Hotel Belvedere are good value for money; in Cambrils, the Hotel Best; in Montbrió, the Termes Montbrió; in La Pineda, the Hotel BestTerramarina. You'll be 10-15 minutes drive from PortAventura!
---
If you have purchased your hotel and PortAventura tickets online or by telephone, you will receive them by email. It is as easy as printing the attached PDF or saving it on your mobile phone and showing it on the day of your visit. If you don't have it with you, you will be charged 5 euros per ticket to validate access at the Visitor Service Office, so keep it safe.
---
Theme parks