You are in good hands
34 years of experience, more than 100 destinations and more than 1 million customers.
Save when you book your Package
More for less. Take advantage of the many benefits of booking your package.
Pay in easy instalments
Book your trip in advance without spending too much.
You will love your holiday
Our customers are our best guarantee and our best ambassadors.
Caldea Spa Andorra

Caldea is the perfect place to forget about the world for a few hours. This thermal baths get natural water from the mountains in Andorra with relaxing and toning properties. Dive into its pools, hot tubs, baths and rivers and disconnect surrounded by water and nature
When you get out of the spa, in Caldea you will also be able to enjoy some massages, wellnes treatments and good food. This unique space of light, water and color will give you back some vitality and renew your energy. Break with your rutine and travel to a real relax world.
Ticket Caldea
Caldea with Kids
The Spa has the Likids zone, an area exclusively for children between 3 and 8 years old. The little ones will be able to relax in a shallow pool and will be able to do different activities without the presence of their parents, as the centre has a team of specialised instructors. What will they find at Likids?
Main lagoon: A water area where they will be able to attend guided classes or participate in different water games.
Playa Suave: A space with dunes made of soft material that represent water bubbles.
Beauty Space: With treatments designed for children, massages, manicure and natural facial masks.
Jacuzzi and fitness area: An area for fun and activities organised by our instructors.
Only children aged 3 and 4 can access Likids.
Children aged 5 to 8 can access Likids and Thermoludic.
Children aged 9 to 11 can only access Thermoludic.
Proof of age is required for all children, and they must always be accompanied by an adult (one adult for every 2 children is required) until 15 years old.
It is compulsory for all persons shorter than 1.30 m, whether they can swim or not, to wear inflatable armbands (in spaces that do not allow swimming as they are intended for being at rest). Caldea will provide the armbands if they are required.
What does the entrance for CALDEA include?
· Two or three hours of the instalation usage (except for the massages)
· Bath material not included
Opening time
Monday to Friday from 10 to 22h
Saturdays from 10 am to 00 pm
Sundays from 10 to 22 h
Caldea Plane
Thermal Space and spa in Andorra
Great Laguna Interior
· Thermal water from 32ºC to 34ºC
· Swan necks: massage of the upper back
· Waterfalls: water curtains
· Hot tub: muscle relaxant effect
· Vaporized water masks: facial moisturizing
· Water piano: foot massage
· Whirlpools: take action from the ankles to the neck
External Laguna
· Mountain views
· Thermal water from 32ºC to 34ºC
· Access from the Great Laguna Interior by the water current river
· Hot tub - standing position and central geiser -waterfall and relaxing bubbles bed
· Environmental and thermal water contrast
Facilities and services
Indo Roman baths
· Thermal water from 32ºC to 34ºC
· Moisturizing effect by contrast
Fitness space
· Water massage space: moisturizing with water
· Sirocco baths: warm water
· Saunas with relaxing lights: 85ºC with muscular relaxation effect
· Hammam: wet warmth that helps with general relaxation and breathing
· Vaporization and polar pass: hydration after the sauna and the hammam
· Wood lights: relaxation by negative ions
Resting Area
· Infrared area (no tanning, just relax)
· Outdoor terraces
CALDEA'S PHOTOS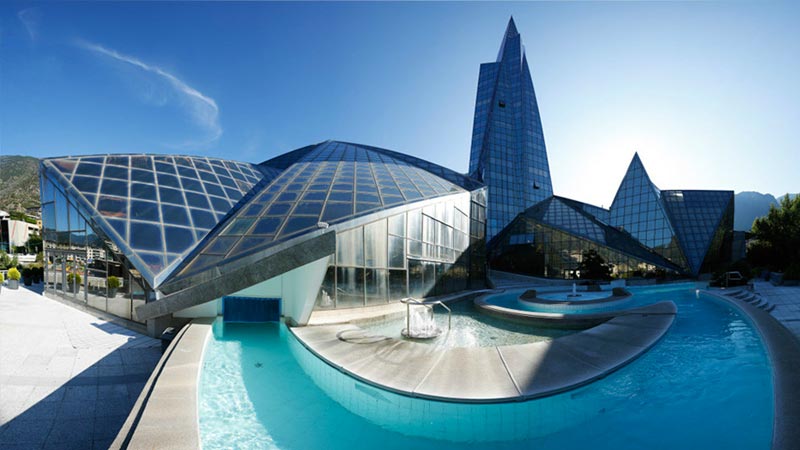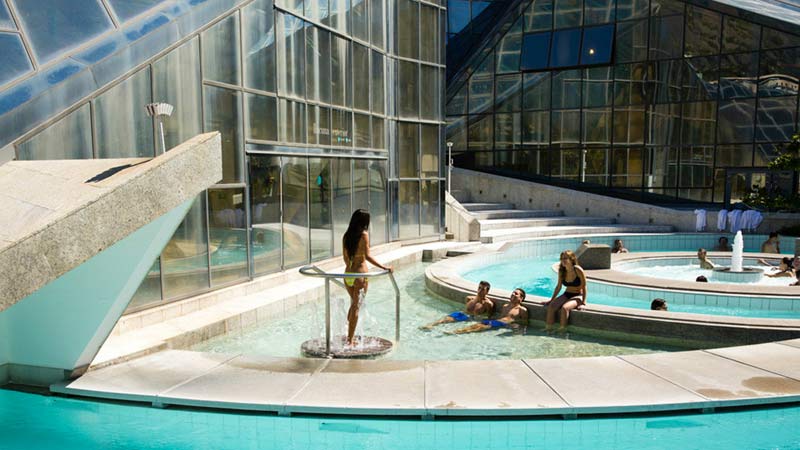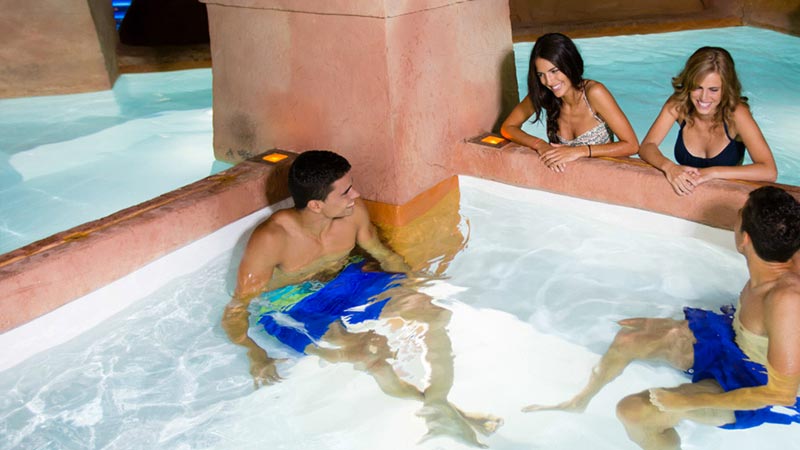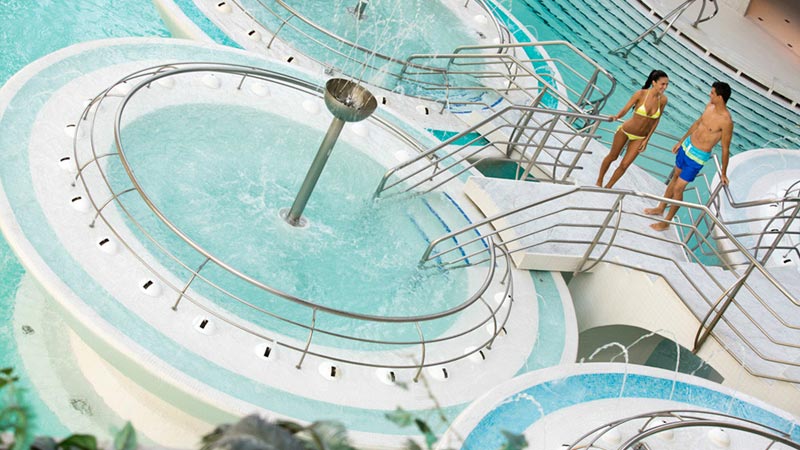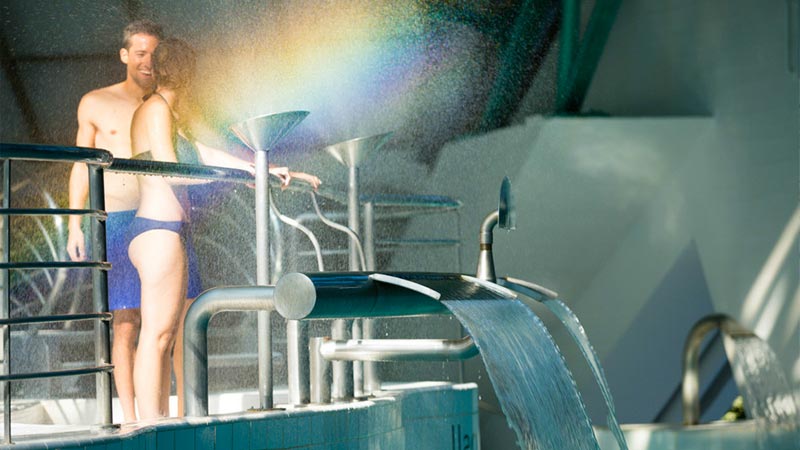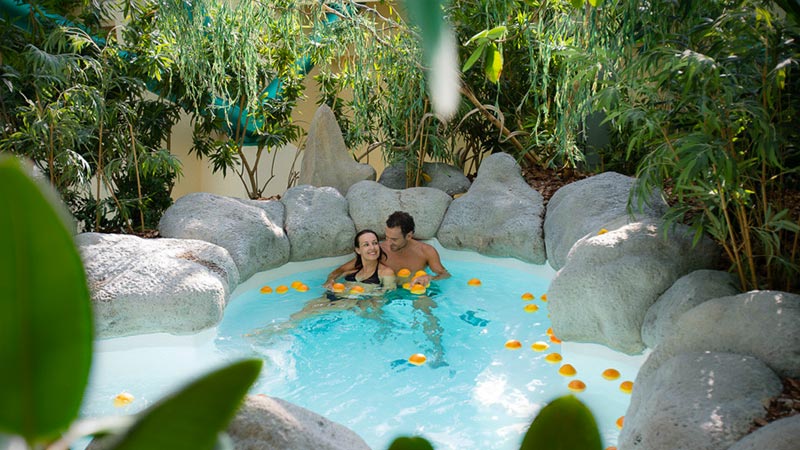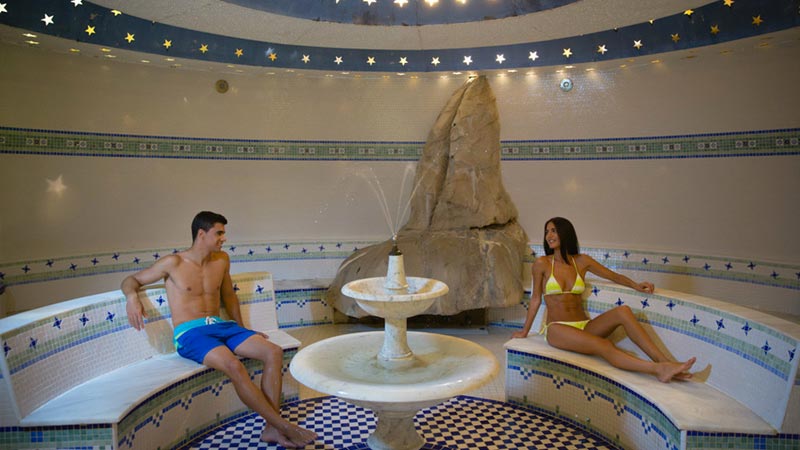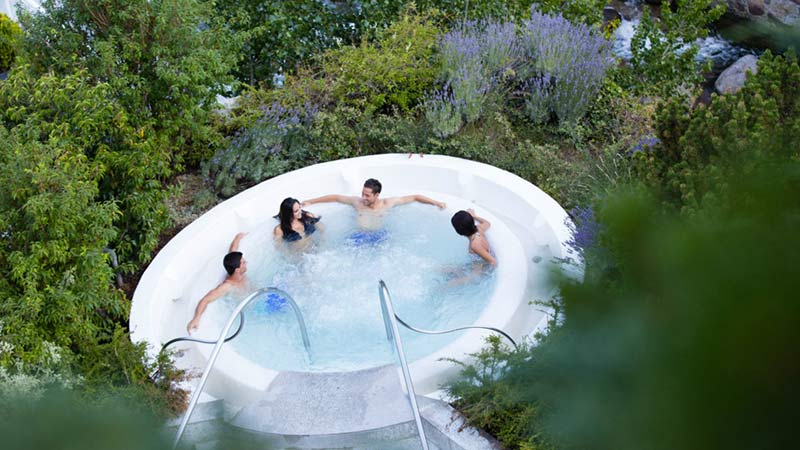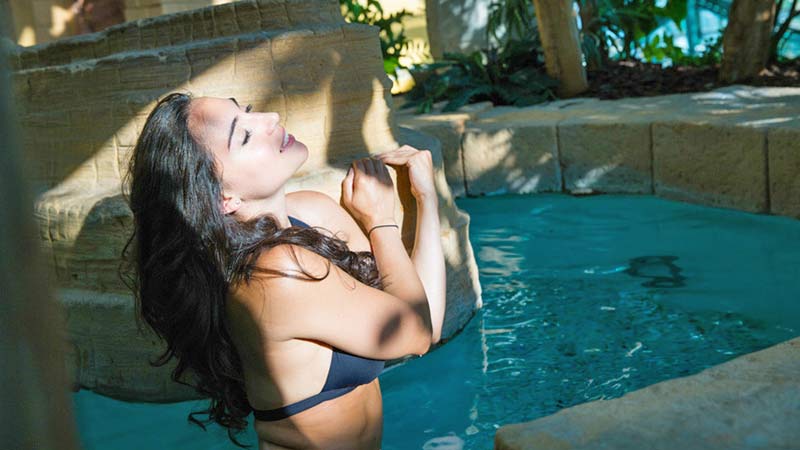 Massages
Massages
· General Massage (60 min): Manual massage all over the body except from the face.
· Local massage (20 min): Manual massage in which you can choose a single area like legs, back, feet, face or head.
· Traditional Thai massage (60 min): Ancient form of massage consistent on gentle swings, pressure and stretching. It relieves tired muscles and improves blood circulation leading you to a state of calm and inner peace.
· Gravita massage (45 min): Relaxing massage designed for pregnant women. Works specially in legs and back.
· Partial massage (30 min): Manual massage for two parts of the body: the back side of the lags and the back in general.
· Shiatsu, Japanese massage (30 min): Oriental massage technique that consists on pressuring points and energy channels.
· Children massage (30 min): Relaxing massage for kids in between 5 and 16 years old. They must be accompanied by an adult.
Frequently Asked Questions - FAQ
What is Caldea?

Caldea is a natural thermal water spa located in Andorra. At Caldea you will find different spaces to relax, take care of yourself and have fun: an indoor lagoon, outdoor lagoon, Indo-Roman baths, hammam, saunas and other relaxation and fitness areas.

How much cost the tickets to Caldea?

The prices of the tickets vary from 20 to 56 euros, for the most extensive packages. In Estiber you can find different tickets to Caldea: Night tickets, morning tickets, afternoon tickets and packages with dinner, lunch or massage.

How can I get a discount on Caldea tickets?

The best way to get a discount is to buy a Hotel + Ticket package. You will find discounts on packages that you would not find by booking the hotel and the ticket separately.

How to get there?

Caldea is located in Andorra, in Escaldes and very close to the Valira river. You can get there by car or bus. If you are travelling by car, you should know that Caldea has a covered public car park that is open 24 hours.

Can I get a 2x1 to Caldea?

The 2x1 to Caldea are available during certain periods thanks to affiliations to associations, companies or others. If this is not your case and you are still looking for a discount to Caldea, check the hotel and ticket offers to Caldea from Estiber.

Can children go into Caldea?

Children between 3 and 8 years old have an exclusive area with supervision provided by instructors. The youngest ones will be able to relax in a shallow pool, in a Jacuzzi or do different activities in an ideal environment to have fun.

What are the opening times?

Caldea opens the doors at 10:00 and closes the facilities at 22:00 at night.

What is Caldea like at night?

As well as using all the facilities, with the night ticket you can enjoy water and light shows or, during the high season, night shows with artists.