Cheap Holidays to Caribe Aquatic Park, Salou
Fancy a different and exciting dip to beat the summer heat? More than 50,000 square metres of attractions, wave pools, slides and much more are waiting for you at Caribe Aquatic Park. There are not many plans more refreshing than Caribe Aquatic Park PortAventura in Salou, where you can dive into a world of fun!
Travel information for Caribe Aquatic Park Caribe Aquatic Park attractions
Caribe Aquatic Park Port Aventura is more than just a water park. It has up to 17 rides and attractions for all ages: from families with children to couples and groups of friends. Everyone will have a great time at the Caribe Aquatic Park attractions.
Here the water attractions are divided into strong, moderate and children's, depending on their intensity. These are the most adventurous:
The Typhoon. You will climb a tower and have to choose between two different routes, both of which start at a height of 15 metres. A storm will throw you through wild turbulence and you will have to be able to keep calm in the midst of nature's fury and let yourself be carried away. In this Caribe Aquatic Park attraction, the minimum height is 1.20 metres.
King Khajuna: Do you dare to free fall 31 metres down a 55-degree slope? With this popular attraction you can reach a speed of up to 6 metres per second. Here, the minimum height for access is 1.40 metres.
The moderate intensity and children's attractions at PortAventura Caribe Aquatic Park are as follows. Take note and hold on, there are curves ahead:
The Bermuda Triangle. Take a dip in this pool that reaches a maximum depth of 1.80 metres and where you will enjoy the waves to the rhythm of reggae music as you avoid the attack of water cannons of evil pirates.
Bahama Beach. Here you can take a break and relax on the sun loungers. A bit of peace and quiet never hurts, sunbathing and listening to the waves.
The Indoor Zone - PortAventura's Gran Caribe. A Caribe Aquatic Park attraction ideal for the kids to have a great time with jets, water pistols, a life-size aeroplane, ball pools, slides... and much more. It has good Caribe Aquatic Park reviews for families.
Mambo Limbo. Let yourself be carried away by the rhythm of thrilling slides that end in an incredible splash and with a 12-metre high course.
El Rio Loco. For children and adults, a 1,500-metre ride with numerous unexpected shows on board of a rubber ring: water curtains, refreshing vapours, pressurised jets, unexpected bubbles...
The Torrent. At Caribe Aquatic Park Salou you will also have the chance to try rafting in this attraction with turbulent waters. The boats can hold up to four adventurers. Curves, descents and much more!
Barracudas. Two routes to choose from, the green and the blue, with some overgrown and vertiginous slides.
Woody's Lagoon. The mascot of PortAventura Caribe Aquatic Park has built his own lagoon for the little ones to have a great time, with colourful paths, spouting pipes, slides, etc.
Junior Body Slides. Ideal for the little ones to let their imagination run wild, located in the Indoor Zone - El Gran Caribe.
Tropical Cyclone. In this aquatic attraction you can slide down a multi bump slide 100 metres long. The minimum height for access is 1.40 metres.
Rapid Race. This is a toboggan carpet that projects you towards the finish line at high speed, on a course where you will have to overcome changes in gradient and refreshing water jumps.
The Pirate Galleon. It emerges from the oceans of the paddling pool, a paradise of fun for the little ones who are fascinated by pirate stories.
Paradise Beach. Because it's not all about adrenaline, here you can take a break on the water beds and next to palm trees, in the purest Caribbean style. The depth of its waters ranges from 0.80 to 1.40 metres.
Cookie Cay. Fun water shapes forming fountains, ideal for the little ones.
Sesame Beach. A shallow pool (30 to 50 centimetres deep) for children to swim and splash around in.
How to get to Caribe Aquatic Park in Salou
Costa Caribe Aquatic Park Salou is in an ideal location, very easy to reach. You can get there by car for greater flexibility and convenience, but it is also possible to arrive by bus, train or even plane. These are the best options for getting to Costa Caribe Aquatic Park Tarragona Spain:
By car
Using your private vehicle, access is very good because you can get there by motorways, dual carriageways and main roads, in good condition. From Barcelona, you will be 110 kilometres away and should take the C-32 and the AP-7; if you are coming from inland, from Lleida, you will be 100 kilometres away and should follow the AP-2 and the C-14. From the south of the coast, Valencia is 250 kilometres from Caribe Aquatic Park, which takes about two and a half hours along the AP-7 motorway; for those travelling from the centre of Spain, it is 550 kilometres from Madrid to the water park, which takes about five and a half hours by car. Once at Caribe Aquatic Park, it is very easy to leave your car: there are several parking areas in the PortAventura World area, with plenty of spaces and also space for caravanning.
By train
If you prefer to travel in the comfort of public transport, making the most of the journey chatting or reading, without worrying about driving or parking your car, it's very easy: there is a train stop at PortAventura itself. You can get there by medium-distance trains and from the stop it's about a ten-minute walk to the Caribe Aquatic Park ticket offices. Those travelling from further afield can take the high-speed AVE train to Camp de Tarragona station and, once there, take a bus directly to the park.
By plane
For those coming from further afield and who want to get to Caribe Aquatic Park Salou quickly, you can get there by plane. The nearest airports are: El Prat airport in Barcelona, Reus airport and Girona airport. From there you can hire a car or take one of the shuttle buses to the parks.
How to get to Caribe Aquatic Park from Salou?
A very common option is to stay in a hotel in Salou, a seaside town. You'll be next to the beach and very close to the theme park: just 2 kilometres away, a few minutes by car, there is also a bus or you can even walk (about 20 minutes at a good pace) to PortAventura Caribe Aquatic Park Salou.
Tickets to Caribe Aquatic Park
Have you decided to travel to Caribe Aquatic Park, to live an aquatic experience to beat the heat? A Caribbean atmosphere, slides, rapids, waves and much more. We have two options to buy tickets for Port Aventura Caribe Aquatic Park:
One day ticket to use for the whole season, for 29 euros for adults online and 32 euros at the ticket office, and 25 euros for juniors and seniors (from 4 to 10 years old and from 60 years old) online and 28 euros at the ticket office. There are also Caribe Aquatic Park 2 for 1 vouchers on special offers, so keep an eye out for them.
Three-day ticket for three parks throughout the season. With this pass you can access PortAventura Park and Ferrari Land on the same day, plus another day's access to PortAventura Park and another day's access to PortAventura Caribe Aquatic Park (both on different days). The three days' access to enjoy these Caribe Aquatic Park tickets must be used within five days of the date of the first visit.
There is also the possibility of taking advantage of Caribe Aquatic Park offers at the ticket office, where there are special rates for people with disabilities, large families, people with special needs, holiday groups and school groups. Check out our amazing deals.
Also, there is the option to buy the Caribe Aquatic Park Express pass: it costs 23 euros per person per day and allows unlimited express access to the following attractions: El Torrente, Mambo & Limbo, Barracudas, Rapid Racer, King Khajuna and Tropical Cyclone, but does not include access to the front row of the attractions. This is a discounted Caribe Aquatic Park pass with certain limitations.
Would you like to buy Caribe Aquatic Park tickets? We recommend you take advantage of a package that includes Caribe Aquatic Park plus hotel. With them, you can enjoy the special package discounts offered by specialised, professional agencies with years of experience, and manage both accommodation and tickets with a single reliable supplier, saving you time and money when booking the Caribe Aquatic Park Hotel.
Also, we can get packages with Caribe Aquatic Park at special prices that include hotel, tickets and transport. Everything you need to have a great time at the most refreshing water park of the summer.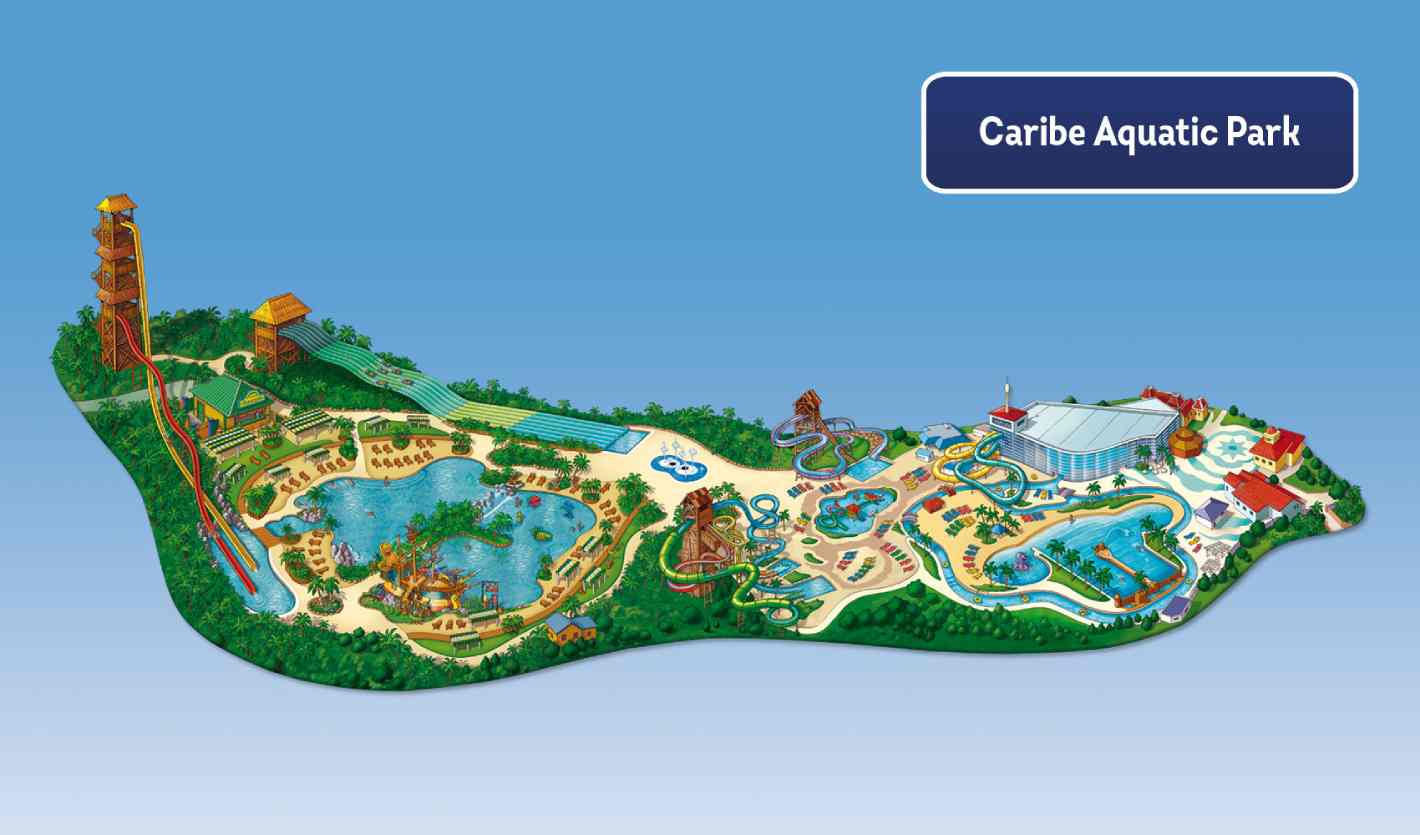 Caribe Aquatic Park Map
The Caribe Aquatic Park map will allow you to move easily and quickly around its more than 50,000 square metres of space. Lots of fun, games and water-related attractions are waiting for you. Without a doubt, the first thing that will attract your attention are the heights of El Tifón (15-metre high tower) and King Khajuna, the ones with the most positive reviews in Costa Caribe Aquatic Park.
When does Caribe Aquatic Park open? It opens its doors only during the summer, of course, from the end of June until the end of August. Caribe Aquatic Park opening hours are from 10.30 am to 6.30 pm. Make the most of the opening hours and enjoy all the attractions and repeat the experience on the ones you liked the most.
On the water theme park map you'll also find a wide range of restaurants, because even the fiercest and wildest pirates have to stop to fill their stomachs: Reggae Café, Focacceria, The Surfer, La Cabaña and different food stands where you can have a snack. You'll also find shops with a wide variety of products, from toys for the kids to clothes, pictures of your best moments at the Caribe Aquatic Park rides and attractions, and even aquatic equipment.
You are in good hands
34 years of experience, more than 100 destinations and more than 1 million customers.
Save when you book your Package
More for less. Take advantage of the many benefits of booking your package.
Pay in easy instalments
Book your trip in advance without spending too much.
You will love your holiday
Our customers are our best guarantee and our best ambassadors.
How much does Caribe Aquatic Park cost?
Tickets for Caribe Aquatic Park cost between 29 and 32 euros for adults and between 25 and 28 euros for juniors and seniors (children from 4 to 10 years old and people over 60 years old); or you can buy a three-day ticket for three parks for between 86 and 96 euros for adults and between 76 and 84 euros for juniors and seniors. You can also buy a Hotel + Tickets package for Costa Caribe Aquatic Park and get special discounts.
---
What are the opening hours of Caribe Aquatic Park?
You have up to eight hours every day to enjoy the slides, rides and different water games at the theme park in Spain. Caribe Aquatic Park Salou's opening hours are from 10.30 am to 6.30 pm. During this time, you can enjoy your favourite attractions as many times as you like: The Typhoon, King Khajuna, The Bermuda Triangle...
---
When does Caribe Aquatic Park open?
Caribe Aquartic Park PortAventura opens from the beginning of summer, from the end of June until the end of August. The hottest months of the year, an ideal time to cool off with the most fun attractions. Book your holiday as soon as possible and take advantage of our deals on Hotel + Tickets for Caribe Aquatic Park.
---
What are the best attractions at Caribe Aquatic Park?
There are Caribe Aquatic Park attractions for all ages: those looking for an adrenaline rush in the water shouldn't miss El Tifón, King Khajuna or Mambo Limbo. And there are also other Caribe Aquatic Park options for children, such as Woody's Lagoon, The Pirate Galleon and Junior Body Slides. Those who want to take a moment to relax have their space at Playa Paraíso.
---
Theme parks