Cheap Holidays to Aquopolis Salou
Looking for a fun and refreshing day out on the Costa Dorada? Aquopolis in Salou is the largest water park in the area and is designed for the whole family. It has a spectacular surface area of 110,000 square metres and is considered one of the best in Spain. At Aquopolis Costa Dorada you will have a great time both adults and children in its swimming pools, large outdoor spa, beach with natural sand and more than 20 attractions. Look for your Aquopolis hotel plus entrance ticket pack now!
Travel information for Aquopolis Salou Aquopolis attractions
Are you one of those brave people who are not afraid of anything or one of those who prefer to take life calmly and enjoy it without any surprises? At Aquópolis Salou there are attractions for all tastes. They are divided into three: high excitement, moderate and children's rides. These are all of them.
Splash (strong). You will go down on a board at a great height and you will be able to participate with your friends in races on the water. A 30-metre ride at full speed that will fly by in no time at all. At the end there is a refreshing surprise waiting for you: an incredible splash!
Kamikaze (strong). One of the most intense Aquópolis Salou attractions you will find. It is impressive, you will slide down a large slide that is the emblem of the park, as it can be seen from almost everywhere. You'll quickly reach the end, reaching speeds of up to 50 kilometres per hour. If you bring your legs and arms together as much as possible, you will be able to go down at a higher speed.
Huracán (strong). Another of the most spectacular and intense Aquópolis attractions: closed hydro-tubes with which you will go down as if you were in free fall, at great speed, until you end up in a surprising splash. You can reach up to 40 kilometres per hour.
Boomerang (strong). Recommended for those who do not suffer from vertigo. You will experience the sensation of being on the edge of a cliff and you will jump from a height of 10 metres. Do you dare?
Black Hole (strong). Another thrilling proposal included in the Aquópolis ticket price: you enter a building in which you will follow a current, without seeing anything, and decorated with light effects. Mind-blowing.
Tyrolean traverse (medium). Feel like a real adventurer crossing an inaccessible tropical jungle where the worst punishment is a good dip.
Speed Race (medium). A race without a float and at full speed where you can compete with your friends. You go down about ten metres on a sliding PVC tarpaulin on which water falls. A tip: if you want to go faster, try to position yourself in an aerodynamic way.
Vulcano River (medium). An Aquópolis Salou attraction that recreates the descent of a raging river, a family adventure that children and adults will enjoy. You go on board on floats and it emulates the practice of rafting.
Indiana (medium). Bring out your most adventurous side with an attraction with a series of tests in which you will have to demonstrate your strength, dexterity and balance. You will have to complete a course without getting wet. Will you manage it?
Maui Lagoon (medium). A lake where you can do everything: swim at your leisure, take a dip under its waterfalls, let the jets spray on your back, play with your family or friends... it is one of the largest bathing pools in Catalonia, with 3,000 square metres of water.
Magic Oval (medium). A unique attraction in Spain and a lot of fun in Aquópolis for the whole family. You will get on a float and travel 45 metres along a winding and striking oval tube, full of twists and turns and unexpected curves.
Zig zag (medium). Several twisting slides follow winding paths down to the water. An adventure as fun as it is refreshing, reaching more than 20 metres high. You will go through many descents, tunnels, curves and even a labyrinth.
Wave Beach (medium). This is a recreation of a beach with waves, for those who get bored in the calm pools. It is more than a metre deep.
Funny Jungle (children's). A park full of swings... and water! and water!
Tortuga aventura (children's). Slides that end in a swimming pool, exclusively for the youngest members of the family.
Mini Park (children's). A children's area with slides, waterfalls, showers and jets.
Treasure Island (children's). The kids will have to climb the rock, from where a refreshing descent awaits them.
How to get to Aquopolis
One of the things you like most about this water park is that getting to Aquopolis is very easy, as it is very well connected by different routes. First of all, let's talk about its location: it is on the beach of La Pineda, in the heart of the Costa Daurada -or Costa Dorada-, just five minutes from Salou and ten minutes from other important towns such as Cambrils, Reus and Tarragona. From Barcelona it is only one hour by car.
You can easily find the water amusement park at Passeig Pau Casals, 65 in La Pineda (Vila-seca). We have different options to help you find your way to Aquopolis: from the car to public transport, either by train or bus. What do you prefer? These are the alternatives we have for Aquopolis how to go:
By car. If you prefer to have more flexibility in your trip to Aquopolis Salou and decide when to leave, without having to worry about the public transport timetable, you will have it very easy to get there. Simply follow the AP-7 motorway and take exit 35 towards Vila-seca, Salou, Reus Sur. Then follow the A-7 towards Tarragona and take the exit towards Vila-Seca and La Pineda. At the roundabout, following towards La Pineda, you will reach the Paseo Marítimo Pau Casals, where Aquopolis is located. If you are coming from the coast, take the Salou-Tarragona motorway and then the turn-off to La Pineda, following it until you reach the promenade. Once at the Aquopolis entrances, you can leave your car in one of the 700 paid parking spaces at the water park (the cost is approximately 5 euros in July and August).
By coach. There are buses every day with a fairly good frequency, about 20 minutes, stopping just in front of the entrance to Aquopolis Salou. You can take the Tarragona - La Pineda line, which leaves from the bus station in the city of Tarragona. There are also buses from Cambrils and Salou, as well as daily bus lines for the Reus - La Pineda route. A last option is to take the regular line Sitges - La Pineda - Salou. As you can see, there are many options and very good ones to travel comfortably by bus to Aquopolis.
By train. We can take any train that stops in Salou and, from there, connect with the Salou - La Pineda bus line to get to the Aquopolis water park.
If you have chosen to travel to Aquopolis by public transport, we recommend that you plan your journey in advance and check the train and/or bus timetables to save waiting times. Aquopolis opening hours change depending on the time of year: in June and September it is usually open from 11.30am to 6pm, and in the central summer months, July and August, it is open from 11am to 7pm.
Aquopolis Tickets
What types of Aquopolis tickets can we buy? Are there discounts for groups? Are there express passes to go on the Aquopolis attractions? What is the Aquopolis ticket price? In this section we will answer all your questions about Aquopolis Salou tickets. First of all, these are the general admission tickets:
Adult (from 1.40 metres in height), Junior (from 1 metre to 1.40 metres), Senior (over 65 years old) and Disabled. These Aquopolis tickets are considerably cheaper if you buy them in advance, so it's worth planning your trip.
Schools. There are different prices for Primary School students (from 4 to 11 years old), Secondary School students (from 12 to 17 years old) and Disabled. Tickets are only on sale at the ticket office.
Groups. Tickets must be booked at least 24 hours in advance and there are three types of prices: for adults, children and the disabled.
Others. You can buy special tickets at the ticket office or online for fast food menu and self service menu to eat once inside the Aquopolis park at special prices. For those who are thinking of bringing food from home, you should know two things: you will not be able to enter the water park with it and, if you go out to eat and come back in, you will only have 20 minutes to do so; otherwise, you will have to pay the Aquopolis entrance fee again.
Season pass. If you plan to spend many days at Aquopolis this summer, this is your best option.
It is important to bear in mind that the Aquopolis park regulations are very strict in that tickets are not refundable "under any circumstances". On the other hand, there are fast passes, known at Aquopolis Salou as "Speedy Pass", which allow you to enjoy the day to the full and save time in queues (they have to be complemented with the normal entrance to the park), ideal for those days when you see a lot of people. The following passes are available:
Speedy pass. Includes eight fast-track entries, with no waiting time, to any of the Aquopolis attractions.
Speedy pass premium. This is a wristband that allows quick and unlimited access to the following attractions: Black Hole, Splash, Boomerang, Speed Race, Vulcano River and Magic Oval.
On the other hand, at the Aquopolis entrances there are lockers that we can rent to leave our most valuable personal belongings and not have to worry about them while we have a great time at the water park. It costs 13 euros, of which six euros is a deposit.
To avoid queues when buying tickets to Aquopolis and save money, the best thing to do is to buy a pack that includes a hotel plus entrance to the park. You won't waste any time and with just one click you'll have everything you need for a fun getaway to Aquopolis in Salou.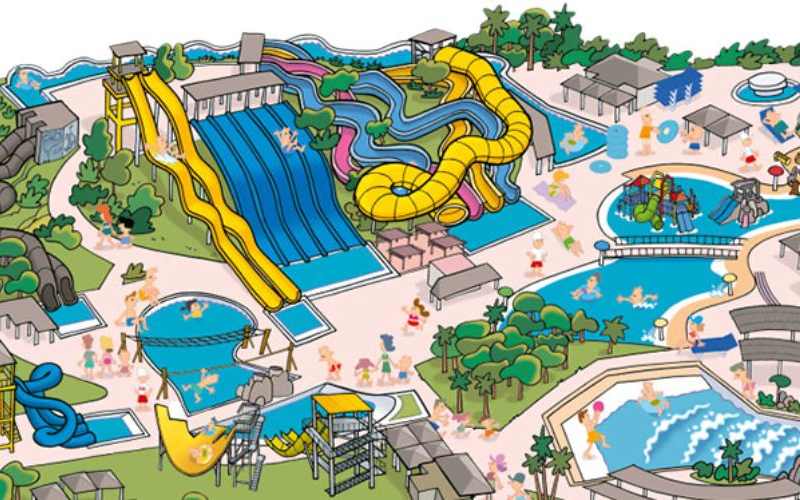 Aquopolis Map
You can get the Aquopolis map easily and free of charge when you arrive at the water park, at the ticket offices, or download it to your mobile phone from their website. With it you can easily find your way around the incredible 110.000 square metres of water fun.
The key points of the Aquopolis Costa Dorada map are the attractions - which are divided into "high excitement", "moderate" and "children's" intensity - which we can search for interactively on the online map by minimum height required to access them, a very interesting tool if we are travelling with children (remember that there are also attractions that have a weight limit for safety reasons).
In Aquopolis we will not lack anything we need for our refreshing day of fun: there are seven points where we can eat something -from a snack in kiosks to dishes in restaurants, creperies, hamburger bars, bars, etc.-, up to three spaces to rent sun loungers, lockers, medical service, customer service and rental of floats (life jackets for children or non-swimmers are provided free of charge). There is also a shop to take home a souvenir of such a special day at Aquopolis.
You are in good hands
34 years of experience, more than 100 destinations and more than 1 million customers.
Save when you book your Package
More for less. Take advantage of the many benefits of booking your package.
Pay in easy instalments
Book your trip in advance without spending too much.
You will love your holiday
Our customers are our best guarantee and our best ambassadors.