Cheap Holidays to Parque Warner
Are you a film lover and do you love amusement parks? We bring you a cinema experience that you can't miss: live in first person in the world full of cinematographic references of the Warner Park in Madrid. In addition to discovering its attractions, we bring you accommodation near the Warner of Madrid, as well as hotels inside the Warner not to leave that fictional world. Travel information for Parque Warner Madrid Warner theme areas
Like all theme parks, Warner Studios in Madrid divides its attractions into different areas where you can enter into different worlds, all of them carefully decorated and decorated in detail, without straying far from the world of cinema. All of them will welcome you with a lot of humour and a large dose of adrenaline.
The themed areas of the Warner Park in Madrid are as follows:
CartoonVillage. This is the most family-friendly area of the park and the kids will love it because here you will find Looney Tunes animated characters such as Bugs Bunny, Tweety, Sylvester and Daffy Duck, as well as others such as ScoobyDoo. We will be able to enter some of their houses and learn about their day-to-day life. There are 19 attractions (all of them classified as soft rides because it is Warner's children's area), five eating areas and six shops.
DC Super HeroesWorld. Have you always wanted to be a superhero? Have you spent sleepless afternoons and nights reading and watching Superman or Batman movies, hooked on their adventurous adventures? This themed area of the Warner Park in Madrid is the closest you'll get to being one. Here you can experience the adrenaline of attractions just for thrill-seekers, such as 'Superman: Ride of Steel' or the 'Revenge of the Enigma' tower. Without a doubt, the ideal place for those looking for intense experiences, as many of the 6 attractions here are vertigo-inducing. There are also four eating and drinking areas and four shops.
MovieWorldStudios. Have you ever been on a movie set? Here you will have the opportunity to step inside one, find out how it works and what goes on in it thanks to the recreation of an authentic film set. There will be no shortage of action movie staples, such as chases, explosions and live gunfights. There are shows that are worth seeing to have a good time with laughter and surprises, such as the Crazy Police Academy or the musical 'The Wizard of Oz: A New Generation', suitable for children and adults. Four attractions await you here, including the impressive Stunt Fall: a 68-metre drop where you can emulate an action scene. You can recharge your batteries at four places to eat and take home souvenirs from one of the two shops in this themed area.
Old West Territory. An important part of the history of cinema is made up of westerns, i.e. films set in the Far West. If you love their silences, plots, challenges and shootings, this area of the Warner Park in Madrid will make you feel at home. Here you can live the experience of putting yourself in the shoes of a real cowboy and duel with the challenges offered by its attractions, some of which are as spectacular as the Coaster Express, which boasts the longest wooden roller coaster in Europe. You can also enter a real gold mine in Rio Bravo or get scared in 'The Warren Files: Passage of Terror', set in the famous paranormal saga. And for the hottest days, don't miss the splashes at Wild Falls. There are four attractions, five dining areas and four shops.
Hollywood Boulevard. The place where you'll feel like a real Hollywood star. You will find a Walk of Fame with tributes to famous actors and actresses such as Gary Cooper, Jack Lemmon, Julia Roberts, Ingrid Bergman, Natalie Wood or Morgan Freeman... and you can even bump into Marilyn Monroe in person. If you are a true fan of cinema and its history, you can't miss a stroll along Hollywood Boulevard in Madrid's Warner Park.
The best attractions at Warner
What awaits us at the Warner Park in Madrid? What are the attractions at Warner Madrid that we shouldn't miss? There are proposals for all tastes, from quiet attractions to enjoy without shocks, to roller coasters and towers that promise us large doses of adrenaline. These are the attractions of the Warner Park in Madrid by thematic areas.
CartoonVillage:
Emergencias Pato Lucas (soft). Here the kids will have fun pretending to be firemen under the orders of the most famous duck. No minimum height.
Looney Tunes Correo Aéreo (soft). Climb aboard small planes where you will have fantastic views of the park. No minimum height.
Convoy de camiones (soft). A Warner attraction for the whole family to enjoy following a closed circuit. No minimum height.
La Aventura de ScoobyDoo (soft). An interactive and very funny tour where you will have to look for the famous dog. No minimum height.
Pato Lucas Coches Locos (soft). Bumper cars type, the little ones will love it. Minimum height 99 cm.
A Toda Máquina (soft). Don't miss out on this drifting boat! No minimum height.
Yabba-Dabba-Doo Driving School (soft). A circuit with real traffic signs for the little ones to take their first steps behind the wheel. Minimum height 105 cm.
Correcaminos Bip Bip (moderate). A roller coaster to try to catch up with this fast bird. Minimum height 100 cm.
He Visto un Lindo Gatito (mild). A mechanical attraction where you can experience the sensation of flying. Minimum height 110 cm.
Marvin el Marciano Cohetes Espaciales (soft). Climb aboard some very funny flying ships. No minimum height.
Piolín y Silvestre Paseo en Autobús (soft). It's a magic bus that flies! No minimum height.
La Captura de Gossamer (soft). You will have to capture the Looney Tunes monster aboard a helicopter. No minimum height.
Wile E. Coyote Zona de Explosión (soft). A free fall tower for children. Minimum height 92 cm.
ScoobyDoo's Tea PartyMistery (moderate) - see who doesn't get dizzy in these spinning cups! Minimum height 80 cm.
ACME Juegos de Agua (mild). Water jets and water guns for fun on hot days. No minimum height.
CartoonCarousel (soft). A merry-go-round with the most famous Warner characters from Madrid: the Looney Tunes. No minimum height.
Academia de Pilotos Baby Looney Tunes (soft). A flight on a light aircraft that follows a monorail. Minimum height 100 cm.
DC Super HeroesWorld
Lex Luthor Invertatron (intense). An inverter where you get to stand upside down on the ground - awesome! Minimum height 140 cm.
Superman Atracción de Acero (intense). This is a Superman roller coaster from Warner Madrid, which simulates the superhero's flight. Minimum height 132 cm.
Mr.Freeze Fábrica de Hielo (moderate). You will fly above the skyscrapers and won't stop spinning. Minimum height 100 cm.
The Joker Coches de Choque (moderate). This is a Warner attraction in Madrid about Batman, where the cars simulate his dark universe. Minimum height 105 cm.
La Venganza del Enigma (intense). A tower of more than 100 metres from where you will have the best views of the park... before experiencing its thrilling descent. Minimum height 132 cm.
Batman: Arkham Asylum (intense). A roller coaster with breathtaking drops, loops and curves. Minimum height 132 cm.
MovieWorldStudios
Movie Tour (soft). An amazing ride in a vintage car where you will feel like a real movie star. No minimum height.
Stunt Fall (intense). A roller coaster only for the most daring, with a boomerang effect that will leave you speechless.
Hotel Embrujado (moderate). A ride where you will lose all sense of reality and where you will need a good dose of courage to advance. Minimum height 90 cm.
Oso Yogui (moderate). Cool off on the hottest days on one of Warner Madrid's water rides. Minimum height 100 cm.
Old West Territory
Río Bravo (moderate). Follow the refreshing ride of a descent through its wild waters. Minimum height 100 cm.
Los Carros de la Mina (moderate). Dare to ride the mine cars that spin out of control. Minimum height 120 cm.
Coaster Express (intense). An impressive wooden roller coaster, the longest and highest in Europe. Minimum height 121 cm.
Cataratas Salvajes (moderate). An aquatic attraction with waterfalls that cause spectacular waves. Minimum height 110 cm.
As if that wasn't enough, there are special activities at Warner Madrid on Halloween and Christmas, and you shouldn't miss the shows at Warner Madrid such as The Warren Files. And don't worry about lunchtime: there are restaurants in Warner Park in all the themed areas.
Where can I sleep with a Warner Hotel + ticket package
The most convenient and economical way to prepare your trip to the theme park is to book a pack of hotel and Warner tickets. This way, you will get both the hotel and the entrance ticket cheaper than if you buy them separately on your own. Don't miss out on the offers we have available on our website!
With a package of hotel and Warner tickets the process is easier because with just one "click" you will have the accommodation and the pass to the theme park. This way, you will have everything centralised in a single company, so you will only have one contact person in case you have any problems, and you will not have to go through that cumbersome process in which some pass the buck to others. In addition, as the Warner Park plus hotel package is managed by a single company, an agency specialising in theme parks, you can benefit from exclusive discounts because they buy, so to speak, "wholesale".
Which accommodation to choose in our Warner Park hotel and ticket package? The truth is that there is no accommodation inside the Warner Park Madrid entrance, but there is plenty to choose from in the surrounding area. These are the most popular proposals for accommodation and Warner tickets in Madrid.
Staying in the city of Madrid. This is what most people do when they book a package for the Warner Park in Madrid with tickets plus hotel. It combines a day or two of pure fun at the theme park with sightseeing and cultural visits around the Spanish capital. There are countless leisure options: visit the Puerta de Alcalá, stroll through the enormous Retiro Park, watch the sunset from the Temple of Debod, visit the Crystal Palace, have a picnic at the lake in the Casa de Campo, have your photo taken in the Plaza del Sol or eat a calamari sandwich in the Plaza Mayor.
Stay in towns in the vicinity of the Warner Park. Some people prefer to stay close to the park, but without going into the city; either because they find better prices or because they want to escape from the big crowds of the capital. So we can book a Warner plus hotel package in towns that are just a few kilometres from the theme park, such as Leganés, Getafe or Arganda. From here you can go to the Warner in a few minutes, and also visit the points of interest of the city of Madrid, but then sleep in a quieter environment. Check out all the proposals in Madrid for Warner plus hotel.
Value for money hotels near Warner
On our trip to the Warner theme park, if we are not from Madrid, we will look for a place to stay. It is worth spending a couple of days discovering all its attractions and shows, but also the surrounding area: it is a good opportunity to get to know the Community of Madrid.
There is no hotel inside the Warner, as there is in other theme parks. But don't worry, there are others just a few kilometres away that will satisfy your needs. To help you choose, we have prepared a list of the best Warner hotels for value for money.
Hotel Madrid Gran ViaBy Meliá (3 stars). It has an unbeatable location, in the middle of the most popular avenue in the capital and next to emblematic places such as Puerta del Sol, Plaza de España, Plaza Mayor, Plaza Cibeles or the Art Triangle, an area that is currently low-emission and has little traffic. It is renovated, offers spacious and comfortable rooms, and serves a varied breakfast buffet with panoramic views of the city. There is plenty of public transport nearby.
Hotel Vincci Capitol (4 stars). This is another of the Warner Madrid hotels located in the city centre. In the heart of Madrid's Gran Vía, just a few metres from the Callao metro station. It is a very elegant hotel with a beautiful rooftop terrace from where you can contemplate the day and night activity of the Spanish capital. The rooms are soundproofed and air-conditioned and have a pillow menu.
Hotel Riu Plaza España (4 stars). Without leaving Madrid's Gran Vía, here we have another very central hotel with good value for money. Its facilities include a restaurant, bar, outdoor heated pool, fitness centre and nightclub, making it ideal for those travelling with friends. The hotel serves a buffet breakfast and has a terrace with good views of the city. Madrid's Royal Palace and the Temple of Debod, among other points of interest, are nearby.
Hotel Indigo Madrid - Princesa (4 stars). Another accommodation that we recommend on your trip to the Warner, in this case located in the emblematic Edificio España on Gran Vía. It offers free wifi throughout the hotel and its facilities include a Sky Bar with beautiful views and a conference room, as well as a gym and outdoor swimming pool. They offer buffet breakfasts with show cooking stations and a terrace bar with 360 degree views. Ideal for those looking for great amenities at a good price.
Hotel Vincci Soma (4 stars) Among the offers at the Warner Park in terms of accommodation, we recommend this hotel located in the Salamanca neighbourhood and next to the Goya metro station. It has spacious, bright and comfortable rooms with modern design and a pillow menu. Don't miss its wide range of services and facilities: gym, restaurant with Mediterranean cuisine, wifi, buffet breakfast, 24-hour reception, meeting room... it is just a five-minute walk from Retiro Park.
Petit Palace President Castellana Hotel (4 stars). Another proposal to combine your trip to the Warner with getting to know the city of Madrid: it is in the Salamanca neighbourhood and only 50 metres from the Paseo de la Castellana. This hotel with Warner offers bright, spacious and elegant rooms, as well as free wifi and iPad and whirlpool bathtub. Pets are allowed and free bikes are available to explore the city by pedalling around at a more leisurely pace.
Hotels near Warner
Although there are no hotels inside the Warner in Madrid, there is a wide variety of accommodation in the surrounding area, just a few kilometres away from the film-related theme park. We have several options: from apartments near Warner in Madrid, to stay overnight in a campsite near Warner in Madrid. What do you prefer? Are you more of an adventurer or the comfort of a hotel?
Here we bring you a list of proposals to combine the Warner Madrid tickets with a hotel in a package, near the amusement park. In the previous section you have the options for Madrid city, here we bring you ideas for hotels near Warner Madrid, in quieter towns than the big city.
How to get to Warner Park
Let's plan our trip to go to the most cinephile amusement park in Madrid. First of all, let's ask ourselves: Where is the Warner Amusement Park? The complex is located in the municipality of San Martín de la Vega, very close to the urban area. You can reach it by car from the A-4 motorway, without getting lost, taking exit 22. It has a very large car park at the entrance, although there is a charge.
Another option with which we will not have to worry about taking the car, is to go to the Warner Park by train. Take the Cercanías de Madrid train from any point in the city on the C-3 line and get off at the Pinto stop. From there, we will take bus 413 of "La Veloz", which will leave us at the very door of the theme park. We recommend you check the timetables for both the train and the bus to connect them without waiting.
An alternative way of getting to the theme park in Madrid is to take the bus line 412 of "La Veloz" at the Villaverde Bajo interchange. In the same way, it will also leave us at the door of the Warner, ready to enjoy a day of films.
Finally, we have the possibility of catching the bus to the theme park at Estación Sur de Méndez Álvaro. Once at the gate, all you have to do is go inside and let yourself be carried away by the adventures, attractions and shows you'll find on the life-size set.
And how to get to the Madrid amusement park if you're travelling from another city or province? The connections with the Spanish capital are very good, so you'll find it very easy to travel: either by plane, flying into Barajas airport, or by road, taking advantage of the many motorways that lead to Madrid, or by using the different rail connections (Cercanías, Medias Distancias and AVE high-speed trains arrive from various cities) and by bus to the centre of the Peninsula.
To give you an approximate estimate of time and distance by car, it takes about 6 hours and 15 minutes from Barcelona (about 650 kilometres); 3 hours and 30 minutes from Valencia (340 kilometres); 4 hours from Bilbao (425 kilometres); 5 hours and 44 minutes from A Coruña (623 kilometres); and 4 hours and 50 minutes from Seville (515 kilometres). Wherever you come from, the atmosphere and attractions at Warner Park will more than make up for your expectations.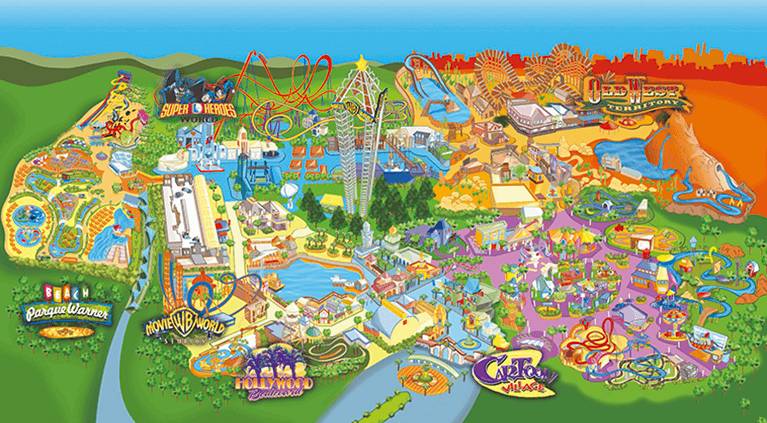 Map of Warner Park
Whether we arrive by private car or by bus, we will arrive at the Warner theme park in Madrid from the north, where the entrance to the park is located. We will be greeted by Hollywood Boulevard, with its particular Walk of Fame, and from there we will begin to discover a whole world of cinema themed areas.
If we consult the map of the Madrid Warner, we will see that most of the attractions are located in the thematic area of CartoonVillage, the space especially indicated for family audiences (although most of them are of the "soft" type, for the enjoyment of boys and girls).
The rides for the brave are in DC Super HeroesWorld, but there are also rides in MovieWorldStudios and the Old West Territory. Throughout the amusement park you'll find shops for souvenirs and cafés and restaurants to recharge your batteries for the day.
You are in good hands
34 years of experience, more than 100 destinations and more than 1 million customers.
Save when you book your Package
More for less. Take advantage of the many benefits of booking your package.
Pay in easy instalments
Book your trip in advance without spending too much.
You will love your holiday
Our customers are our best guarantee and our best ambassadors.
What are the closest hotels to Warner Madrid?
If the main motivation of your trip to Madrid is to visit the Warner Park, we recommend sleeping as close as possible. There are no hotels inside the Warner in Madrid, so you will need to go by bus or park in the Warner Park car park. But there are many within a few kilometres of the resort, such as the HolydayInn Express Hotel in Leganés and Getafe, the Gran Hotel Los Ángeles or the Sercotel AB Arganda.
---
How can I cancel a Warner Madrid booking?
If you've had an unforeseen event and you can't enjoy your hotel and Warner tickets package, don't worry because there's a solution. You can change or cancel your booking with us up to two days in advance. So take advantage of the special offers and don't worry if you cannot make it.
---
How much does a Hotel + Ticket package at Warner Madrid cost?
With Warner in Madrid packages that include hotel and theme park admission you can take advantage of much lower prices than if you booked everything separately and on your own. There are hotel and Warner in Madrid offers for a day, a weekend, school trips and other types of group trips.
---
What are the best value for money hotels near Warner Madrid?
If you want to pay the lowest price for your hotel plus Warner tickets package, but without sacrificing quality, we recommend booking in hotels with good value for money in Madrid, such as the following: Hotel Madrid Gran Vía by Meliá, Hotel Vincci Capitol, Hotel Riu Plaza España, Hotel Indigo Madrid - Princesa, Hotel Vincci Soma and Hotel Petit Palace President Castellana.
---
How do I receive my tickets?
It's very simple. When you buy your tickets to the Warner Park in Madrid through the website or by phone you will receive them by email. On the day of the visit you will have to take it printed or show it on your mobile phone. Keep it in a safe place you will remember to show it the day you go to Madrid Warner Park.
---
What is the minimum age to enter Warner Madrid?
There is no minimum age to go to the Warner Park in Madrid. However, there are height restrictions on many attractions. It is recommended for children from 5 years old so that they can enjoy their experience to the full, they will better remember their visit and they will be able to go on more attractions at Warner Park.
---
What happens if it rains during my trip to Warner Madrid?
There are about 60 days of rain, with greater or lesser intensity, at Warner Park Madrid (especially in spring and autumn). If there is an episode of rain and very strong winds and thunderstorms, the park may close some attractions and shows for safety reasons without prior warning. However, if the rain is not too heavy but enough to make you take shelter, you should know that there are many options to continue having fun indoors: the 3D Chinese Theatre, ScoobyDoo's Adventure, the Haunted Hotel, Daffy Duck's Crazy Cars, and much more.
---
What do I need to bring to Warner Madrid?
It is highly recommended to bring water, hats and microfibre towels, the lightweight kind, to dry off in time and prevent getting a cold. It's also a good idea to pack a change of clothes, sunscreen and a waterproof rain jacket just in case. It's also a good idea to take a thin long sleeve in case the weather changes or you get cold in the shade.
---
What is the best day to visit Warner Madrid?
The Warner Park opening hours change depending on the time of the year: July and August have the longest opening hours, from midday to midnight. The rest of the year, the usual opening hours of the Warner Park are from midday to 10pm. The best days to visit Warner are from Monday to Friday, because there are fewer crowds and, therefore, fewer queues at the attractions.
---
Theme parks