Cheap Holidays to Ferrari Land, Salou
Ferrari Land in PortAventura, Spain, is a real experience for adrenaline lovers: across 70,000 square metres in Salou, you will experience unforgettable emotions on the attractions, all related to the Italian automobile brand. You'll get to know its history and journey in depth, and you'll feel first-hand the speed with free falls, races and even feel like a real driver in an F1 simulator. Travel information for Ferrari Land The best attractions in Ferrari Land
With the Ferrari Land ticket you can access up to 18 attractions divided into four types: strong, moderate, children's and museum. There is something for everyone in this park! If you are looking for Ferrari Land speed, we recommend three attractions:
Red Force
The highest and fastest vertical accelerator in Europe, which accelerates 180 km/h in just five seconds and travels 880 metres, reaching a height of 112 metres, it is the Ferrari Land roller coaster. If we compare Ferrari Land vs Shambala, in the neighbouring PortAventura, the latter roller coaster was the highest and fastest, at 78 metres and 134 km/h in Europe, until the arrival in 2017 of Ferrari Land Red Force, a real adrenaline-filled experience! Watch out for the anecdote of the Ferrari Land pigeon: when this winged bird collided with a person on the Red Force and, despite the initial surprise, continued to have a great time.
The Thrill Towers
One of them with a 55-metre free fall, and the other, a bouncing tower with the pistons of a real Ferrari engine and a two-directional movement towards the sky and down to the ground. If you are a lover of height and speed, you can't miss either of them.
Those who want excitement, but a little more moderate, also have their space in Ferrari Land. Don't miss the following options:
Compete with family or friends in the Maranello Grand Race at Ferrari Land, a large 570-metre racing circuit.
Live the F1 experience in the Racing Legends.
Explore Ferrari Land at altitude from the Flying Dreams, aboard an authentic Ferrari GT car.
Drive like in F1 with a very realistic simulator with the Pole Position Challenge attraction.
Put yourself in the shoes of a mechanic in the Pit Stop Record.
For children, there are a number of attractions specially designed for them in Ferrari Land:
The Junior Championship, a Ferrari Land attraction for children to drift at every turn.
The Kids' Podium, where they will have a great time through tubes and other elements.
Crazy Pistons, a Ferrari spinning like the pistons inside its engine.
The Junior Red Force roller coaster for kids, where they can also experience adrenaline.
The Kids' Tower children's free fall, with 9 metres of bouncing and spinning.
The Champions Race, a replica of the legendary Ferrari Testarossa 250.
The Flying Race, which allows children to pilot their own plane and fly through the clouds, so they can experience first-hand what it's like to be a pilot!
Finally, the Ferrari Land and Italian brand freaks should visit the Ferrari Land Gallery, a kind of museum that offers the chance to take an interactive journey to discover all the details of the team. It has a large space in the spectacular Ferrari Experience building.
And this is not all, many more surprises and entertainment options await, such as the Ferrari Land shows:
Rondo Veneziano. Do you know what the traditional rondo is? At Ferrari Land you have the chance to discover Baroque costumes and traditional Italian music and experience the authentic atmosphere of the period.
Italian folklore. You will feel like you are in Italy surrounded by music and folklore in every corner of the amusement park (it does not have a specific timetable, but is itinerant).
BMX Show. Be amazed by the acrobatics of Ferrari Land's BMX bikes. You'll be amazed.
Acrobatic Show. This show brings together music and basketball, which go hand in hand with a lot of rhythm. A very entertaining experience.
Ferrari Land tickets
Counting down the days until your visit to Ferrari Land? Go ahead and buy your Ferrari Land tickets to ensure you get the best price at the park inspired by the Italian racing team. There are many offers to see at Ferrari Land that will suit you.
If you choose to buy them online, they will be a little cheaper: a one-day ticket for Ferrari Land costs 22 euros online and 24 euros at the ticket office for adults, and 19 euros online and 21 euros at the ticket office for juniors and seniors (4 to 10 years old and over 60 years old). Also, at the ticket office you can get special discounts to enter Ferrari Land for large families, holiday groups and school groups, among others.
But Ferrari Land has a lot to offer, so we recommend spending more than one day in its facilities to repeat dizzying attractions such as Red Force and to see all its shows. It is cheaper if you buy Ferrari Land tickets for several days.
You can also opt for Ferrari Land deals that include access to two parks: PortAventura Park and Ferrari Land on the same day. This full ticket costs 58 euros for adults on the website (61 euros at the ticket office) and 51 euros for juniors and seniors on the website (54 euros at the ticket office). This PortAventura+Ferrari Land combo can also be purchased for several days.
It is also possible to purchase the Ferrari Land Express. This is a type of pass that allows you one-time access to certain attractions in the park, some of the most popular, exciting and daring, although it does not allow access to the front rows: Red Force, Thrill Towers, Racing Legends, Flying Drams and Maranello Grand Race. This is a good option for those who are travelling with little time but don't want to miss the best and highlights of Ferrari Land in PortAventura.
Finally, if you want to save time and money, we recommend buying accommodation packages with admission to Ferrari Land. These packages are unbeatable in price because, as a specialised agency, you will get special discounts on both tickets and hotels. This is easier and quicker for you, because with a single purchase you get the whole trip, with everything you need. It is also safer in the sense that if you have any problems with the accommodation or with your experience at Ferrari Land, you have a single contact person to solve any inconvenience you may have on the trip. Make the most of our deals!
How to get to Ferrari Land
To enter the Ferrari Land theme park, you will find the entrance next to the ticket offices at the square leading to PortAventura and Caribe Aquatic Park. If you are already inside PortAventura, you can access Ferrari Land directly, without having to leave the theme park, through a connection in the Mediterránea area.
Access to Ferrari Land is very simple, and there are several options for getting there. If we travel by car, the roads are very good, next to motorways and dual carriageways, until almost the Avenida Alcalde Pere Molas, where it is located.
From Barcelona, take the C-32 and the AP-7, about 110 kilometres, and it takes about an hour and a half; from Lleida, take the AP-2 and the C-14, 100 kilometres and it takes about an hour and a fifteen minute drive; if we travel from the south, from Valencia to Ferrari Land there are 250 kilometres and it takes two and a half hours following the AP-7; if we travel from the centre of the peninsula, from Madrid to Ferrari Land there are 550 kilometres and a little more than 5 and a half hours by car.
And where can we park at Ferrari Land? There are several car parks in the theme park area, just a few metres from the entrances. There are plenty of spaces, they are well organised and there is even a caravanning service.
You can also travel to Ferrari Land by train, a convenient alternative to taking the car. The Renfe medium-distance trains have a stop at PortAventura, from where you can walk for about 10 minutes to the ticket offices of the theme parks. From the train station you will see the unmistakable silhouette of the impressive Ferrari Land Red Force roller coaster.
Another option, for those travelling by train, is to get to Camp de Tarragona station, from where you can take a bus to the parks. It is advisable to check the opening times.
If you are coming from further afield, you can get to Ferrari Land by plane. The nearest airports are El Prat airport in Barcelona, Reus airport and Girona airport. Shuttle buses and car hire services are available at these airports.
Also, many of those who travel to Ferrari Land stay overnight in Salou, close to the beach. From there, it is only 10 minutes by car, and we can also take buses at frequent intervals, trains (there are two lines), taxis, tourist trains and even walk (it is just over two kilometres).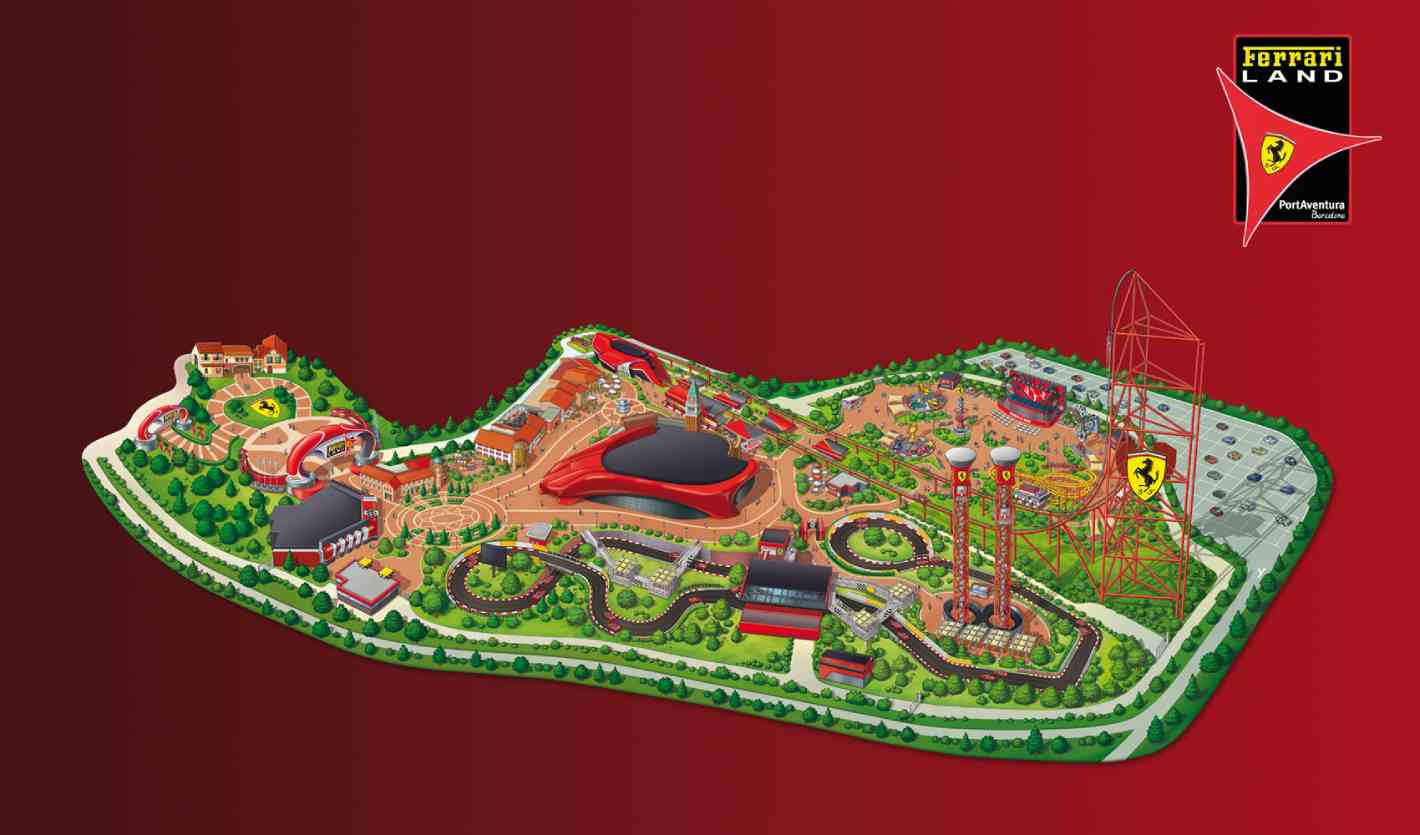 Map of Ferrari Land
What to see in Ferrari Land? What are the must-see attractions? On the Ferrari Land map you can easily find your way around the major attractions. As you can see on the map, the first thing that will catch your eye will be the tower with the symbol of the Italian racing team and which belongs to Red Force, the big roller coaster, the highest in Europe, and which is the symbol of the park. Next to it, you will find the Thrill Towers, which will also give you a good dose of adrenaline.
Right in the centre of the Ferrari Land park is the Ferrari Experience - Ferrari Land Gallery, a large building that will give you all the details and curiosities of the Italian brand and its historical journey. Don't miss a visit to its facilities. Throughout the park, you can also enjoy a drink in its four restaurants: Il Cavallino, Pit-Lane, Via Italia and Paddock.
Make the most of the Ferrari Land opening hours to visit and repeat your favourite attractions: it opens from 11am to 5pm in summer and from 11am to 4pm from October, although it is advisable to check the opening hours at the time of your trip, as they may vary depending on the time of year and public holidays.
You are in good hands
34 years of experience, more than 100 destinations and more than 1 million customers.
Save when you book your Package
More for less. Take advantage of the many benefits of booking your package.
Pay in easy instalments
Book your trip in advance without spending too much.
You will love your holiday
Our customers are our best guarantee and our best ambassadors.
How fast does the Ferrari Land attraction go?
If you're looking to experience speed at Ferrari Land, you definitely can't miss the Red Force attraction: it has an acceleration of 180 km/h in just five seconds and reaches a dizzying maximum height of 112 metres. Another must are the ThrillTowers, both the bidirectional displacement of the Bounce Tower and the thrilling 55-metre-high Free Fall Tower.
---
How high does the Ferrari Land attraction go?
The Red Force attraction is the highest in Ferrari Land and in Europe: 112 metres! To access this roller coaster, the minimum height in Ferrari Land is 1.40 metres, the same as for the ThrillTowers. Other attractions with milder thrills, such as the Flying Dreams, only require a minimum height of one metre and children must be accompanied by an adult.
---
What are the opening hours of Ferrari Land?
Make the most of your stay at Ferrari Land, open for around six hours a day, depending on the time of year: it's usually open from 11am to 5pm during the summer months, and the rest of the year from 11am to 4pm. Check Ferari Land opening times and details before you travel, as they may change depending on public holidays and weekends.
---
Ferrari Land is part of the PortAventuraWorld theme park complex. It is in a privileged location, just two kilometres from Salou, from where you can go by bus, car or even walking. The surroundings and access are unbeatable: it is next to several beaches and next to the AP-7 motorway, as well as having a train station.
---
What to do in Ferrari Land?
Ferrari Land is a whole world of surprises and excitement for fans of the Italian racing team. What's on offer at Ferrari Land? The park offers everything from vertiginous adrenaline rides such as Red Force Ferrari Land, to others more suitable for family members, shows in Ferrari Land, tours through its history and facts, and a wide variety of restaurants and shops related to the brand.
---
Theme parks