Canyoning offers in Rialp (Pallars) - Catalonia
If you are a lover of adventure and adrenaline, the Pallars is your destination and the canyoning in Rialp your activity.
The ravines of Berros, Hell and San Pedro will allow you to live experiences that you have never felt before. Check our offers of canyoning in the Pyrenees and know the world of canyoning with Estiber.
Hotel 1 night + Canyoning
Hotel weekend + Canyoning
Hotel during the week + Canyoning
You are in good hands
34 years of experience, more than 100 destinations and more than 1 million customers.
Save when you book your Package
More for less. Take advantage of the many benefits of booking your package.
Pay in easy instalments
Book your trip in advance without spending too much.
You will love your holiday
Our customers are our best guarantee and our best ambassadors.
WHAT THE OFFER INCLUDES
• Public liability and accident insurance
• Parking space
• Technical equipment (wetsuit, windbreaker jacket, neoprene socks, helmet, GoPro helmet mount, harnesses, carabiners and anchors depending on the state of the gully)
• Qualified guides (Catalan, Spanish, French and English speakers)
LOCATION AND HOW THE CANYONING OFFER WORKS:
The arrival time to the activities center is on the confirmation of your reservation. Once you arrive to the center, you can use the parking to park your car, and the first thing you have to do is going to the center's reception which is located on the second floor. At the reception, we will confirm your reservation and the person in charge will tell you the instructions needed to start the activity.
Once organized, we will call you to take your equipment and we will move to the canyon. You will have to save your clothes and your personal items in your cars. The guides will save your keys.
Once we have our neoprene, you will receive the helmet and the harness and we will practice a Trekking until the beginning of the canyon where the guide will tell us the last instructions before starting the activity.
After the activity, the guide will pick all the equipment and if you want you can go to the activities center where you can take a shower and enjoy the terrace of our bar while you see the pictures of the activity (if you have contract them)
DESCENT CHARACTERISTICS:
Berros Canyon
• Difficulty: Easy
• Car ride length: 10 minutes
• Walking length: 15 minutes
• Length of the activity: 1h
Hell Canyon
• Difficulty:Intermediate
• Car ride length: 40 minutes
• Walking length: 30 minutes
• Length of the activity: Half a day
San Pedro Canyon
• Difficulty:Easy
• Car ride length: 40 minutes
• Walking length: 1 hour
• Length of the activity: 3 hours
PICTURE GALLERY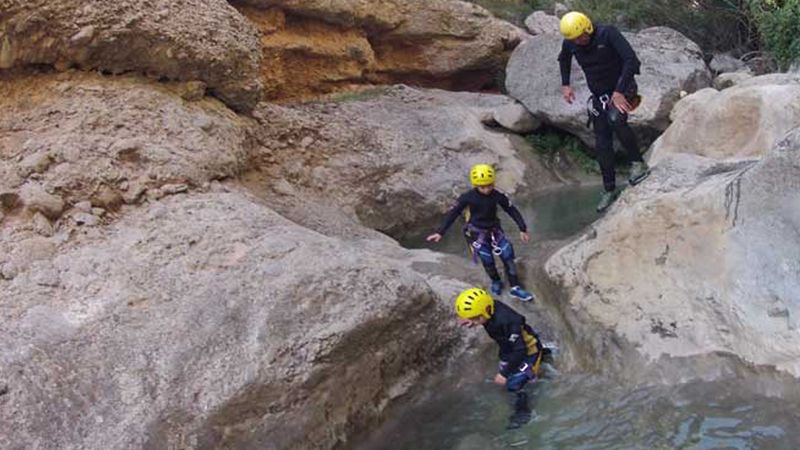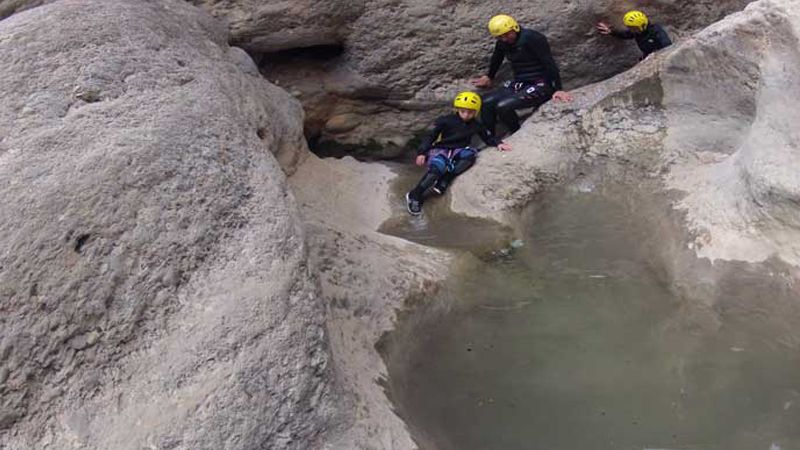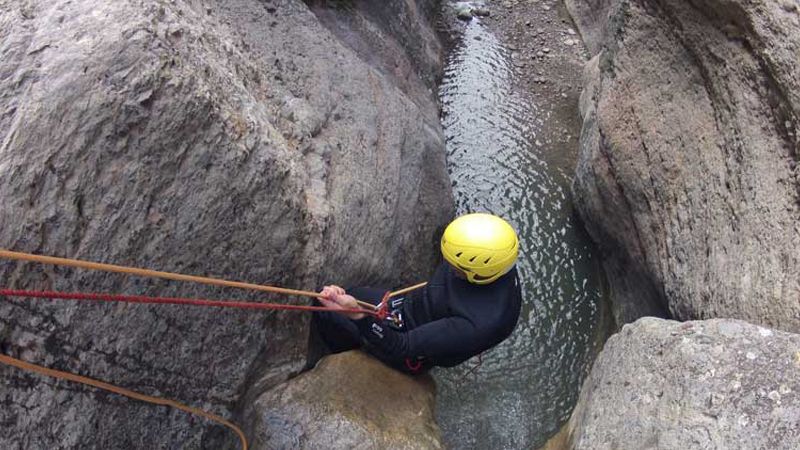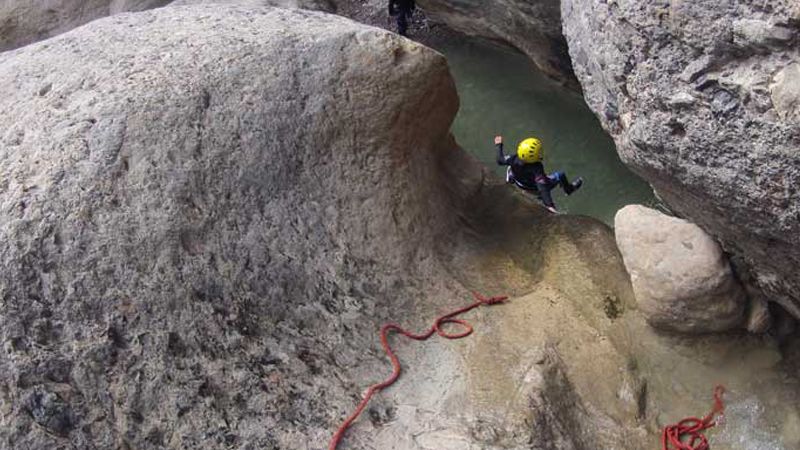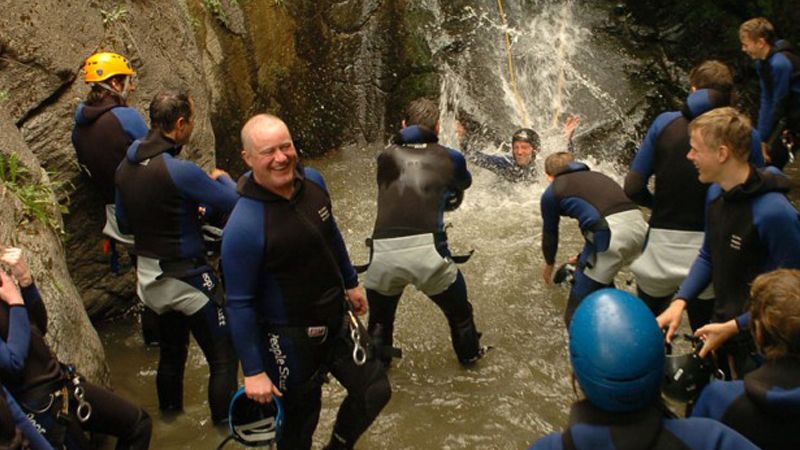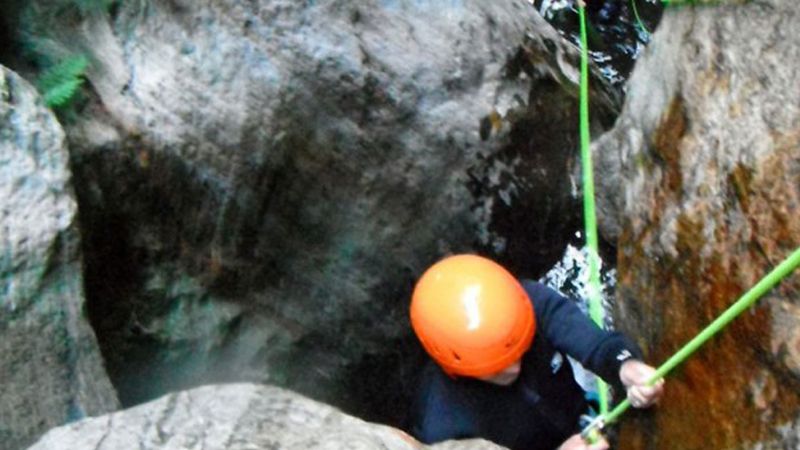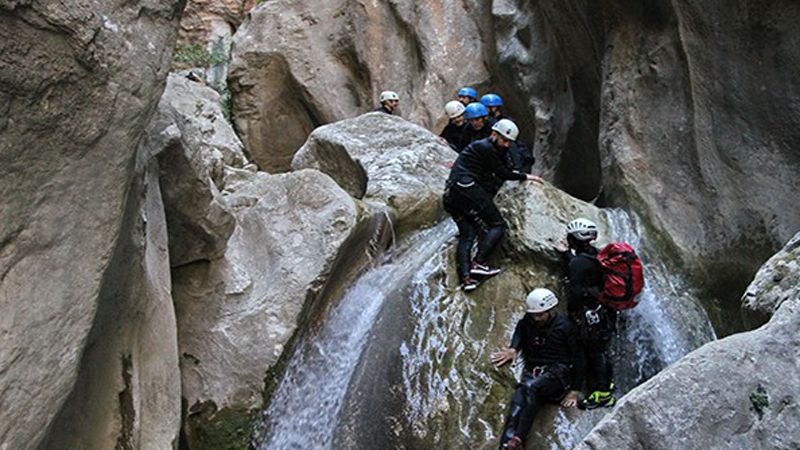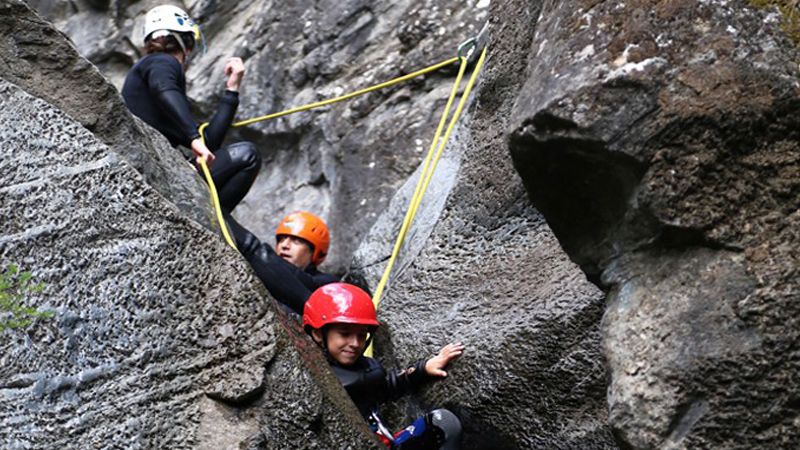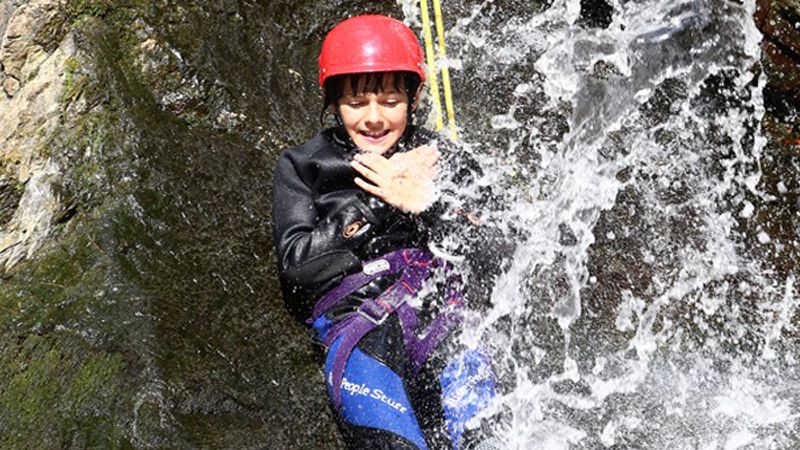 TO PRACTICE CANYONING IN EL PALLARS...
Who can do the activity?
• People with good physical condition and health
• People with swimming skills
• Minimum age accompanied by an adult (depending on the river flow): 15 years old (springtime) and 12 years old (summertime)
• Minimum age unaccompanied: 15 years old
You have to bring
• Sunglasses with strap
• Swimsuit
• Sunscreen
• Towel
• Thermal T-shirt (not compulsory)
• Closed-in sport footwear that can get wet
Additional services
• Photo services
• Private lockers
• Bar
• Children playground area